Columbia again ranked as Top Performer in 2019 AASHE Sustainable Campus Index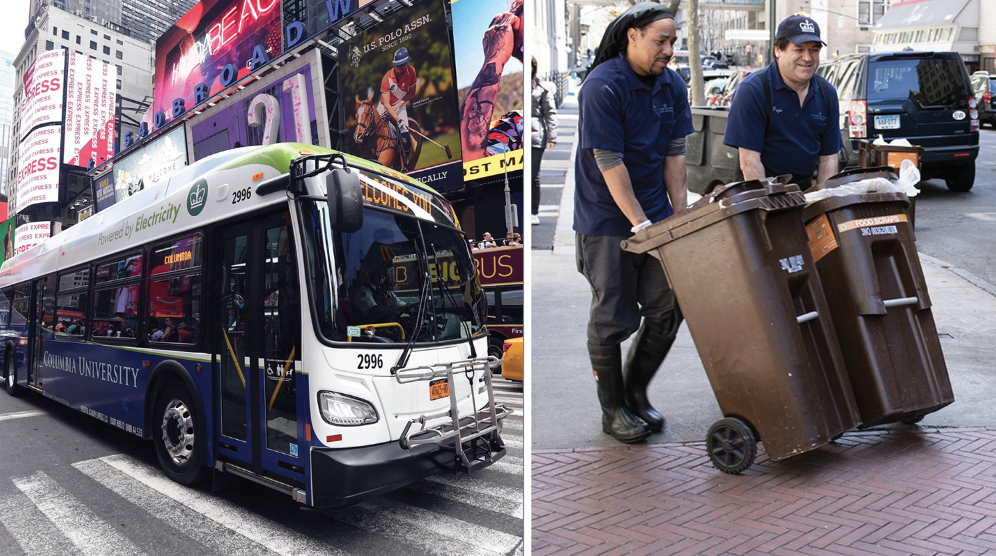 Columbia University has been recognized in the 2019 Sustainable Campus Index, achieving the top spot in Transportation and coming in sixth for Food & Dining. The 2019 Sustainable Campus Index, a publication of the Association for the Advancement of Sustainability in Higher Education (AASHE), highlights top-performing colleges and universities overall and in 17 impact areas, as measured by the Sustainability Tracking, Assessment & Rating System (STARS).
"The institutions being recognized as top performers in this year's Sustainable Campus Index exemplify the leadership higher education institutions are showing in addressing sustainability challenges," said AASHE's Executive Director, Meghan Fay Zahniser.
In the area of Transportation, where Columbia earned top marks, the university recently won "Best Overall Program" from the Association for Commuter Transportation (ACT) at its annual international conference held in New York City. By reducing single-occupancy vehicle (SOV) commutes, adding six battery-electric buses to the intercampus shuttle fleet, and providing alternative sustainable transport options for commuters, Columbia has again proven its leadership in the area of transportation.
Columbia also received the sixth place spot in the area of Food & Dining. In addition to the title of "Number 1 College for Food in America," Columbia Dining is also a Level 1 Green Restaurant Certified establishment meeting standards across water efficiency, waste reduction and recycling, sustainable goods, energy, reusable and disposable items, and chemical/pollution reduction. Sustainability drives Columbia Dining's purchasing decisions, menu development, and physical operations. By ordering from local businesses and farms, providing a wide range of daily vegan and vegetarian options, and prioritizing recycling and reuse in its locations across campus, Columbia Dining has proven itself a leader in the sustainable food arena.
About Sustainable Columbia
In its first campus-wide sustainability plan released in 2017, Columbia pledged to cut greenhouse gas emissions by 35 percent in the next three years – a goal that the university exceeded in 2018. The plan set clear targets for shrinking Columbia's carbon footprint and reducing waste by improving efficiencies in campus operations, boosting composting, recycling and public transit use, and investing in energy-saving technology. More than a year in the making, the 2017 plan was produced with extensive input from students, administrators and faculty scientists—many of them world leaders in the sustainability field. For any plan to succeed, it must be measurable and accountable. Each year, Columbia publishes a Sustainable Columbia Annual Progress Report showcasing the important work of many dedicated Columbians to meet the university's sustainability goals.
About STARS
STARS is a transparent, self-reporting framework developed by AASHE for colleges and universities to measure their sustainability performance. With over 900 participating institutions, STARS is the leading tool for measuring higher education sustainability performance. 164 reports were submitted in the most recent calendar year, resulting in a 27 percent increase over the previous year and a fifth consecutive year of growth. All reports are publicly accessible on the STARS website.
About AASHE
AASHE empowers higher education administrators, faculty, staff and students to be effective change agents and drivers of sustainability innovation. AASHE enables members to translate information into action by offering essential resources and professional development to a diverse, engaged community of sustainability leaders. We work with and for higher education to ensure that our world's future leaders are motivated and equipped to solve sustainability challenges. For more information, visit www.aashe.org. Follow AASHE on Facebook and Twitter.