What is the Sustainable Leaders Network (SLN)?
The SLN is a group of sustainability-minded students, faculty, and staff from each school or administrative department at Columbia University. From collaborating on user-friendly, campus-wide recycling bin signage to piloting innovative green solutions in their offices and classrooms, members of the SLN aim to drive behavior change from the ground up across Columbia's campuses.
* indicates Green Team Liaison
Butler Hall
Rachel Drogoszewski*, Executive Suite
Jamie Nash*, Strategic Communications
Campus Services
Bianca Tamburello, Columbia Dining
Daniel Lopez, Columbia Health
Emerald Curie, UEM
Janice Erskine, Environmental Stewardship
Kevin Porter, Print, Mail & Transportation
Matilde Gonzalez, Print, Mail & Transportation
Scott Buonomo, UEM
Sophy Ramirez, Executive Suite
Daniel Lopez*, Columbia Health
CUFO Finance / HR IT
Caryn Chen, Capital Finance & Admin Support
Cyle Timmons*
Meagan Arceo, Finance
Michael Roman, CUFO HR
Muin Alzougbi, CUFO IT
Earth Institute
Alix Schroder*
General Studies
Jessica Sarles-Dinsick
Josh Edwin 
Max Ginsberg
Nathaniel Wilcox*
Noah Kutzy
Sean Trulby
GSAS
Allan MacLeod* 
Mike Ford* 
Journalism
Abigail Bedrick, Development 
Andrew Rodriguez Calderon, Student
Justin Ray, Magazine 
Lauren V. Meregildo-Santos, Prizes 
Michael Krisch, Brown Institute for Media Innovation
Scott Osborn*, Facilities
Sean Murphy, Pulitzer Prizes
Susan McGregor, Tow Center
Ofelia Mangen, IT 
Law
Anthony Pallone, Building Services
Ashley Marie Gregor, Student
Brendan Mallee*
Briana Florio, Alumni Relations
Frantz Merine, Information Technology
Hazel May, Registrar
Heath Mayhew, Law Library
Hunter Whaley, Law Library
Julie Anna Albarez, Career Services
Laura MillerFaculty Affairs
Marissa Litwin Zalk, Graduate Legal Studies
Martin Howard, Information Technology
Mary Lee Herrington, Career Services
Michael Gerrard*
Olati Johnson*
Susan Cersovsky, Admissions
Susan Kraham 
Lerner Hall
Chanda E. Bennett, Student Advising
Cheryl L. de Moose, Student Advising
Corey A. Getchell, Double Discovery
Jesse Adamo, Undergraduate Student Life
Josh Lucas, Undergraduate Student Life
Juan Francisco, Lerner Facilities
Lorena Prosco, Lerner Operations
Marva Binns, Student & Family Support
Philip T. Masciantonio, WKCR
Richard Bova, Lerner Facilities
Sivan Grunfeld, Ticket Information Center
Taiwo Adenekan, University Chaplain
Theresa Delgado, Columbia College Operations
Mailman School of Public Health
Abigail Welbourn, Environmental Health Sciences
Amina Williams, Environment Health Sciences
Brian Brennan*
Bryan Burne*
Ebony King, Epidemiology
Elizabeth Tashiro, IT
Georgia André, Biostatistics
Gilbert Smith, Infection & Immunity
Heather Krasna, Career Services
Irma Rosario, Deans Office
Jenissia Jeanty, Sociomedical Sciences
Jill Baxter, Budget and Compliance
Kazuel Baily, Sponsored Projects
Kim Milan, Deans Office
Leila Arbaje-Lembert, ICAP
Marianthi-Anna Kioumourtzoglou*
Marjorie Perez-Richardson, Educational Programs
Natasha Sood
Nina Kulacki, Health Policy and Management
Rosa Perez-Maldonado, Educational Programs
Rosine Moussa, Columbia Aging Center 
Shana Young, Finance
Yasmin Davis, Sociomedical Sciences
Physicians and Surgeons
Anita Patel, Department of Pediatrics
Erin Bailey Mauceri, Dept. of Physiology, Dept. of Pharmacology
Evgenia Berkovich, Division of General Medicine
Giselle Gonzalez, Ophthalmology
Indrajeet  Viswanathan, Facilities Management 
Justin Bernardo, Urology
Li Shi, Taub Institute
Lyn Goldsmith, Department of Surgery
Maria Batori, HICCC
Maria Diaz-Gil, Center for Family and Community Medicine
Michelle Leddy, Orthopedic Surgery
Neil Schluger*
Nicole Marotta, Institute for Genomic Medicine
Roxana Martinez
Sadie Maloof, HICCC
Sara Sternglass, Institute for Human Nutrition
Stephanie Blaney, Orthopedic Surgery
Wayne Tang
Public Safety 
Ace Valentine, Manhattanville Campus
Alfonsina Rosario-Arroyo, Nash Building
Andy Sanchez-Sarit, Morningside Campus
Fulp Goudswaard, Medical Center Campus
Jimmy Lai*, Morningside Campus
Michael O'Donnell, Medical Center Campus
Patrick Danville, Morningside Campus
Yeiry Liriano, Manhattanville Campus
Office of the EVP for Research
Michael Shelter*
School of Nursing
Jason Wright*
Jean-Marie Bruzzese*
Josh Massei, Scholarship & Research
Judy Wolf, Student Affairs 
Lara Philips, Alumni & Development
Mairead Moore, Alumni & Development
Mary Moran, Clinical Faculty
Matthew Richardson, Operations
Nick Burry*
Pam Pena, HR & Faculty Affairs 
SEAS
Alexis Moore, Civil Engineering
Andrei Shylo, Mechanical Engineering
Ariel Sanchez, Chemical Engineering
Clarissa C. Pena, Computer Science
Elizabeth Allende, Earth and Environmental Engineering
Eric Ruberte*, Dean's Office
Fred Jiang, Data Science Institute
Gen Fleming*, Dean's Office
James Vicchiconti, Columbia Nano Initiative
Michael Smith, Civil Engineering
Montse Fernandez Pinkley, Applied Physics and Applied Mathematics
Natalie Chee, Biomedical Engineering
Stan Sakry
Susan Ceballo, Electrical Engineering
Svitlana Samoilina, Applied Physics and Applied Mathematics
Yosimir Acosta, Industrial Engineering and Operations Research
School of Professional Studies
Colette Rodgers
Daniel Trotta
Studebaker Building
April Croft, Finance
Ching Gonzalez, CU HR
Jesse Irmler, CUIT
Jimmy Lucca, Facilities Operations
Kate Sheeran*, Finance
Mark Medd, Finance
Therese Horn, SPA
Tiffany Williams, MDG
Tom O'Donnell, Facilities Operations
Members of the administration, faculty, and students have collaborated to generate this Sustainability Plan, the University's first, complete with high-level goals. This Plan highlights a set of strategies that departments, including but not limited to Facilities and Operations, will advance over the next three years.
The role of school-based actions in the form of policy and behavior change accelerates the University's ability to realize its sustainability goals. The primary objective of the SLN is to engage a wide range of stakeholders from across the campus to collaborate in developing and endorsing a set of these actions that can serve to guide Columbia's schools to foster a culture of sustainability.
Once onboarded, SLN participants use the Workspace Certification tool to drive measurable culture change in their schools and/or departments. The experience gained will help other schools to utilize solutions and document progress.
Environmental Stewardship looks forward to sharing the progress Columbia is able to make over the course of the coming years through this energizing engagement platform.
On April 12, 2019, the Office of Environmental Stewardship recognized participants of the Sustainable Leaders Network Workspace Certification Program at the Campus Sustainability Fair in The Forum. Schools and departments were presented with certificates displaying the level of certification reached during this pilot year of the program.
School of Nursing: Platinum    
School of Professional Studies: Platinum  
Butler Hall: Gold    
Public Safety: Gold    
Office of the Executive Vice President for Research, Low Library: Gold    
Studebaker Building: Gold    
Earth Institute, Hogan Hall: Gold    
School of General Studies: Gold    
School of Engineering and Applied Sciences: Silver    
Campus Services: Silver    
Facilities and Operations HR/Finance/IT: Silver    
School of Journalism: Silver 
Law School: Bronze
Image Carousel with 11 slides
A carousel is a rotating set of images. Use the previous and next buttons to change the displayed slide
Slide 1: Butler Hall, Gold

Slide 2: School of Nursing, Platinum

Slide 3: General Studies, Gold

Slide 4: Public Safety, Gold

Slide 5: School of Journalism, Silver

Slide 6: Office of the Executive Vice President for Research, Gold

Slide 7: School of Professional Studies, Platinum

Slide 8: Studebaker Building, Gold

Slide 9: Facilities and Operations HR/Finance, Silver

Slide 10: Engineering and Applied Science, Gold

Slide 11: Earth Institute, Gold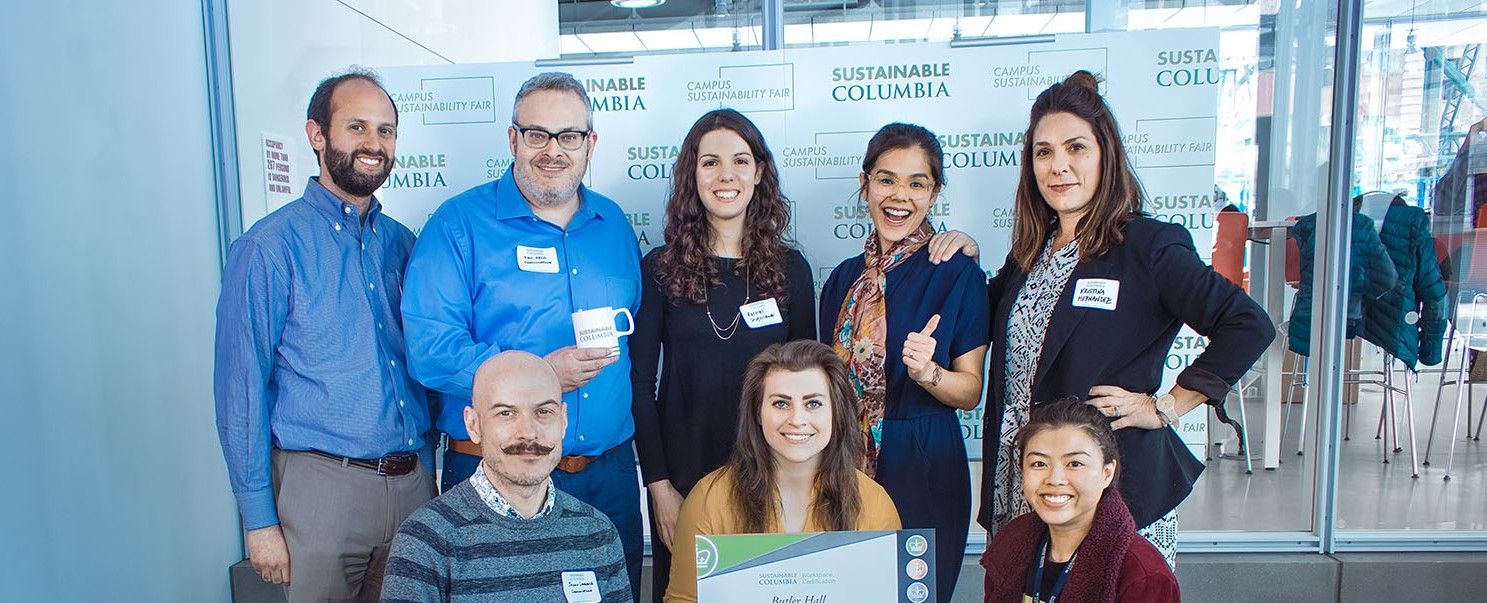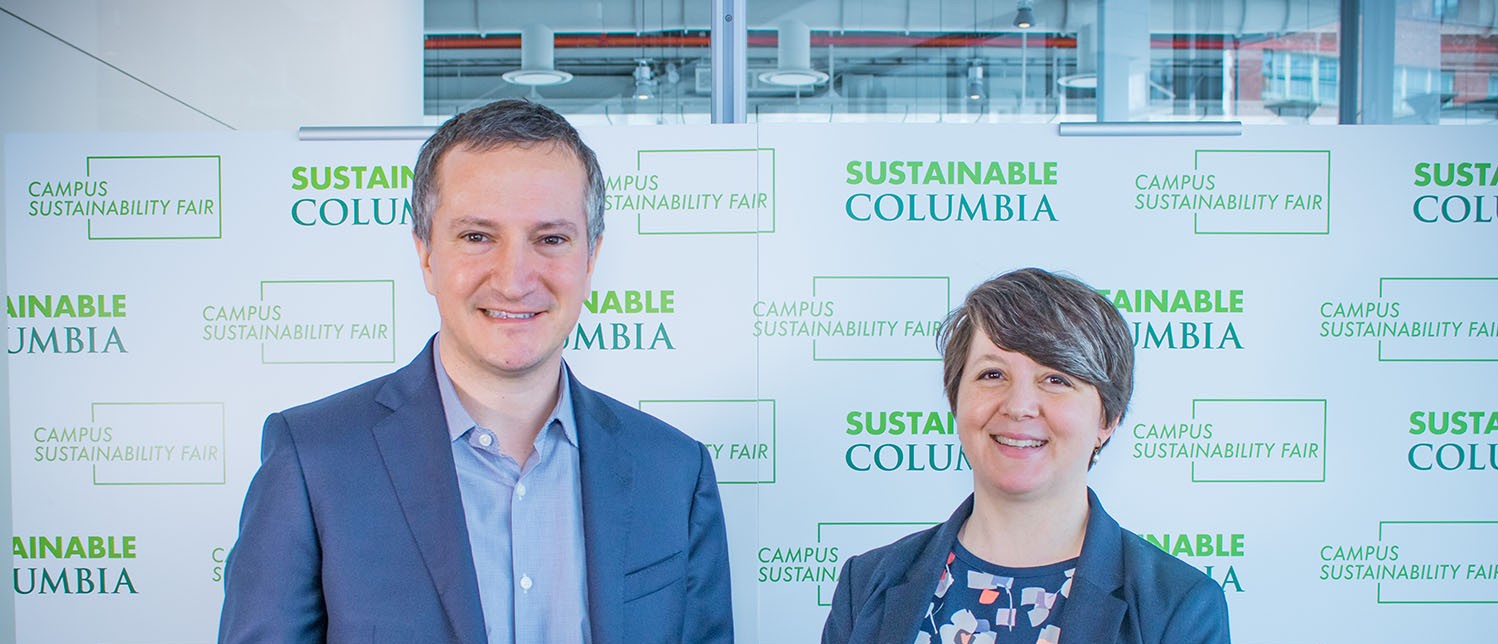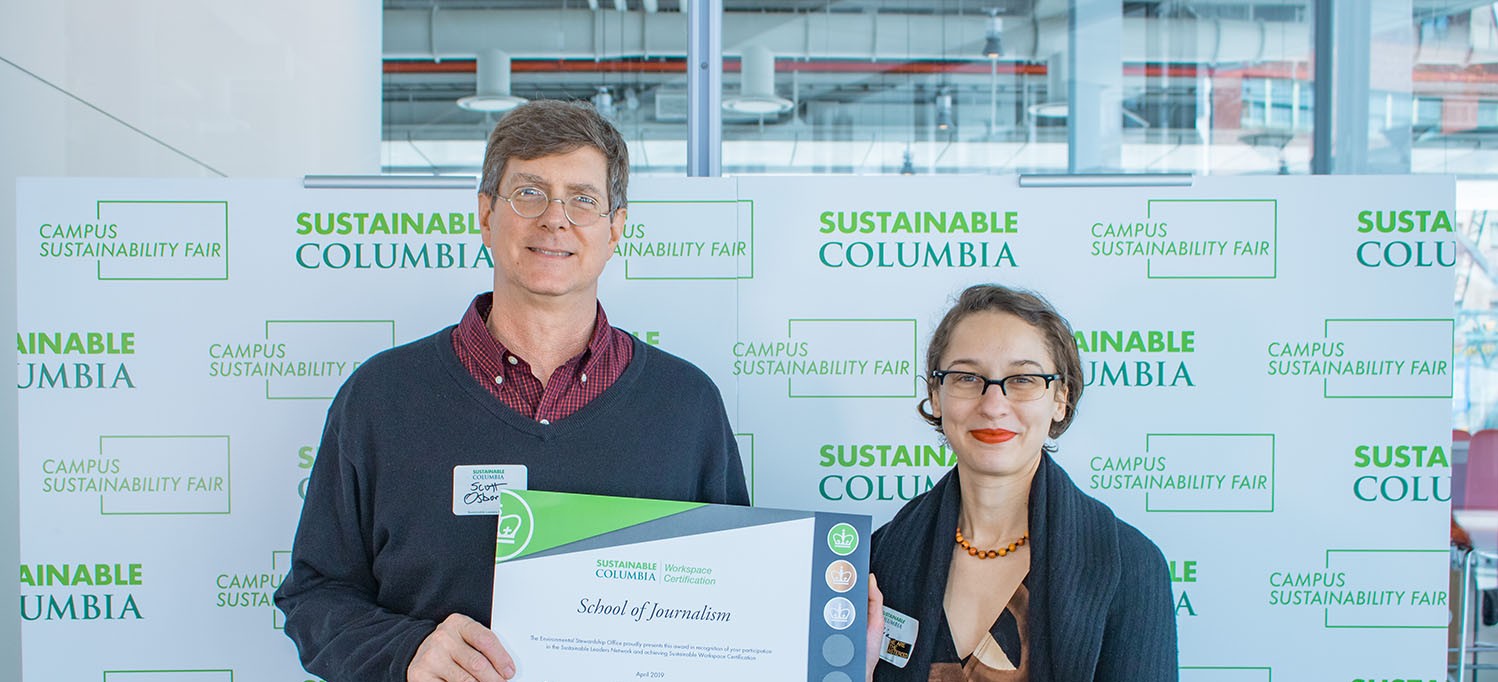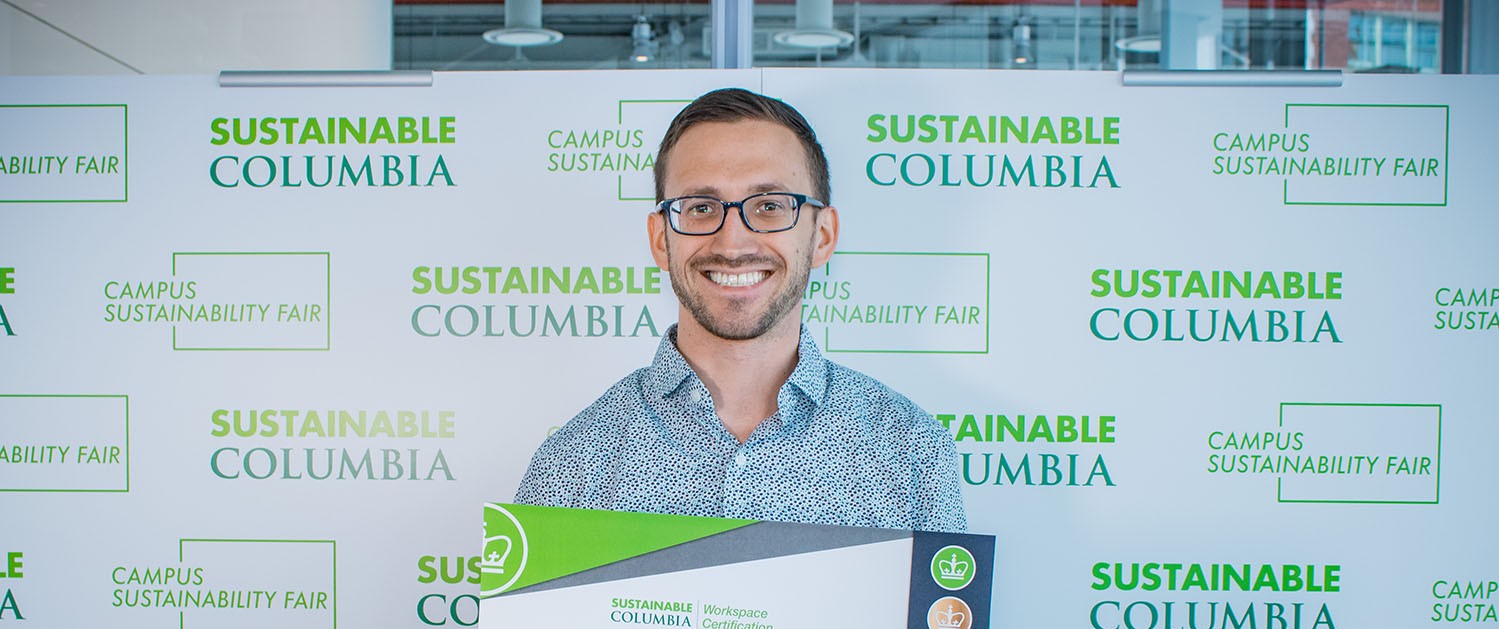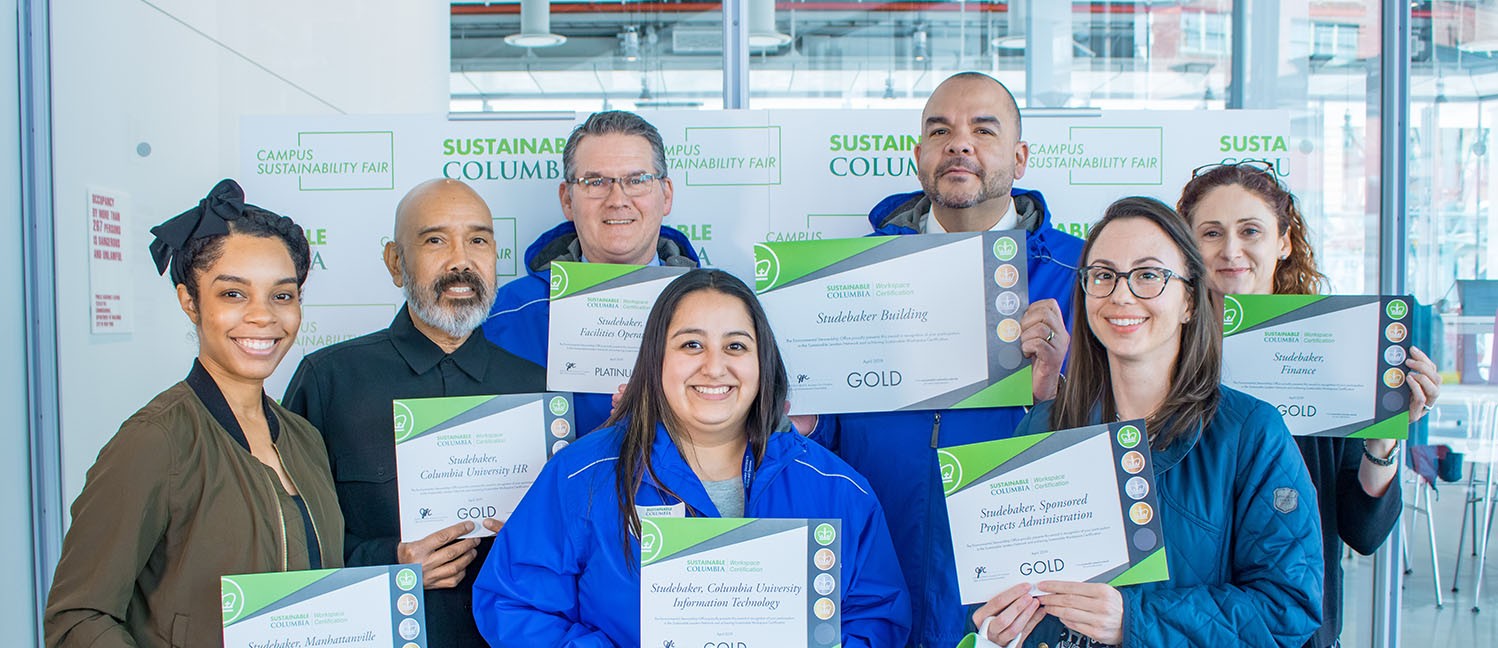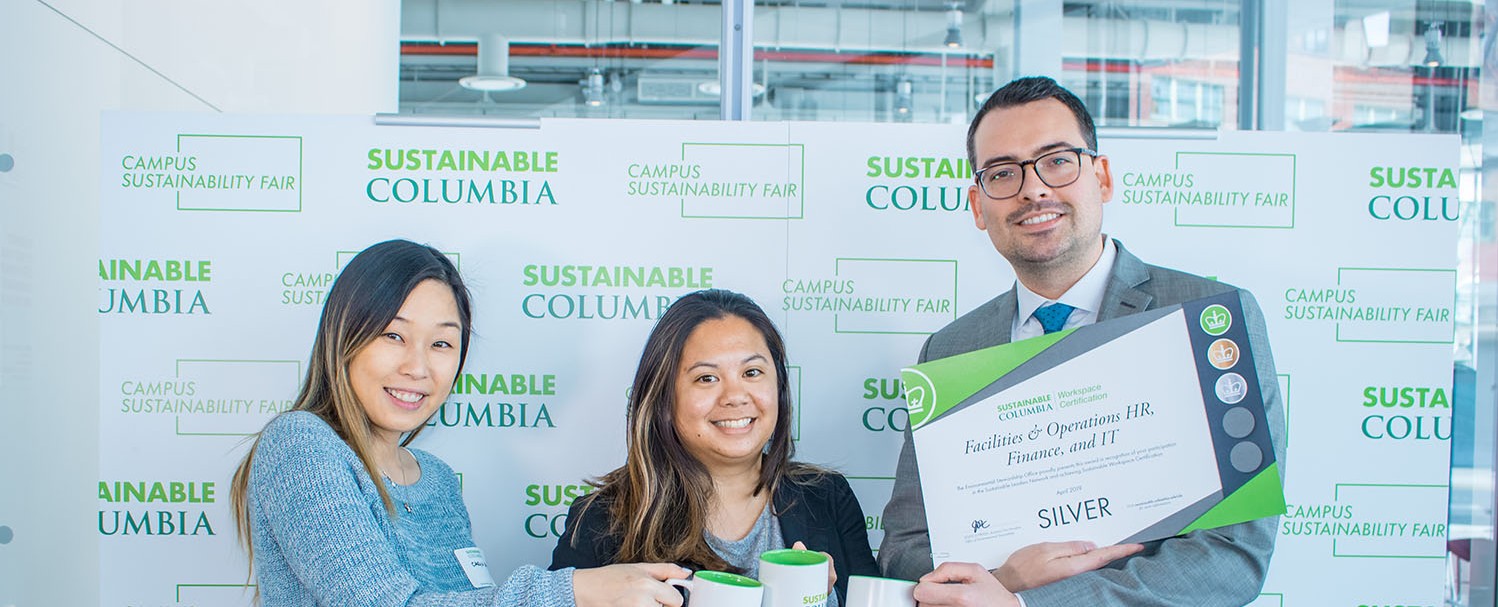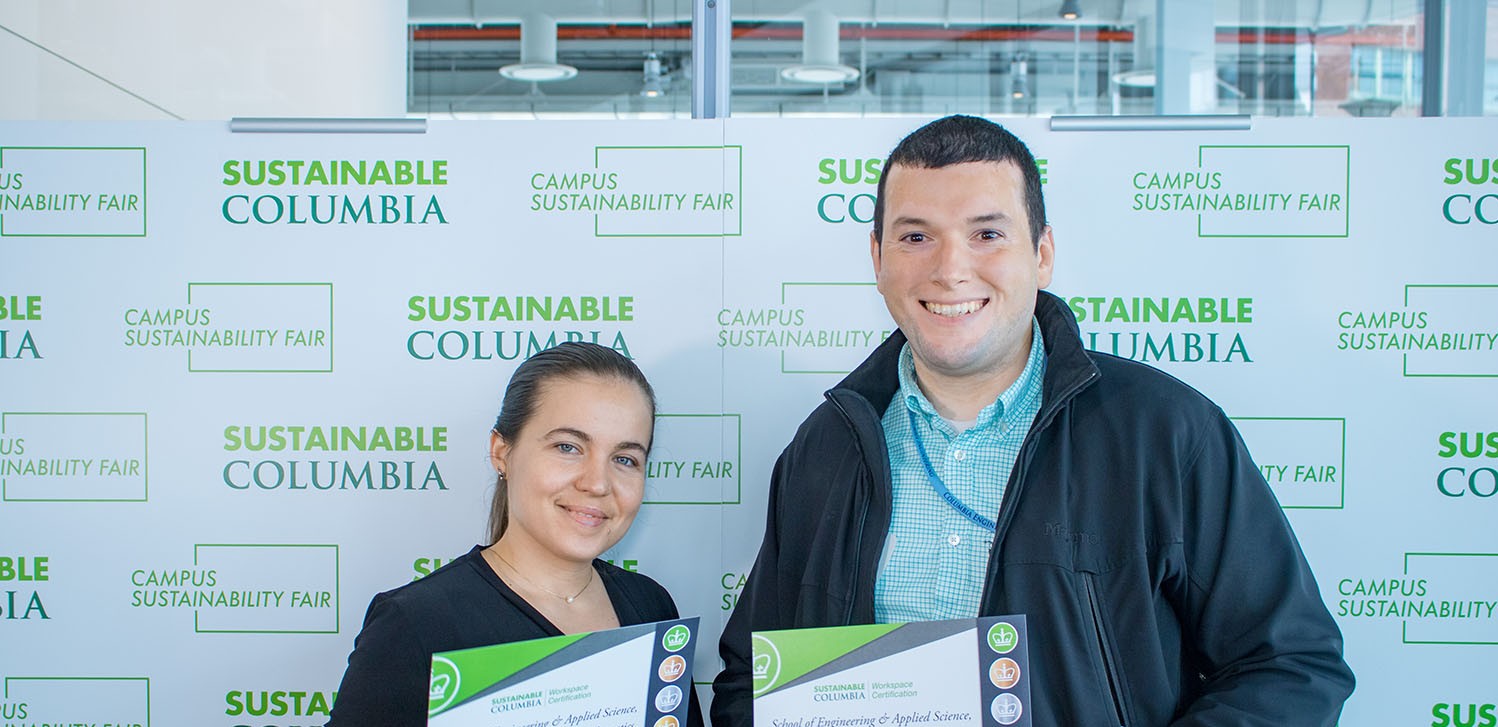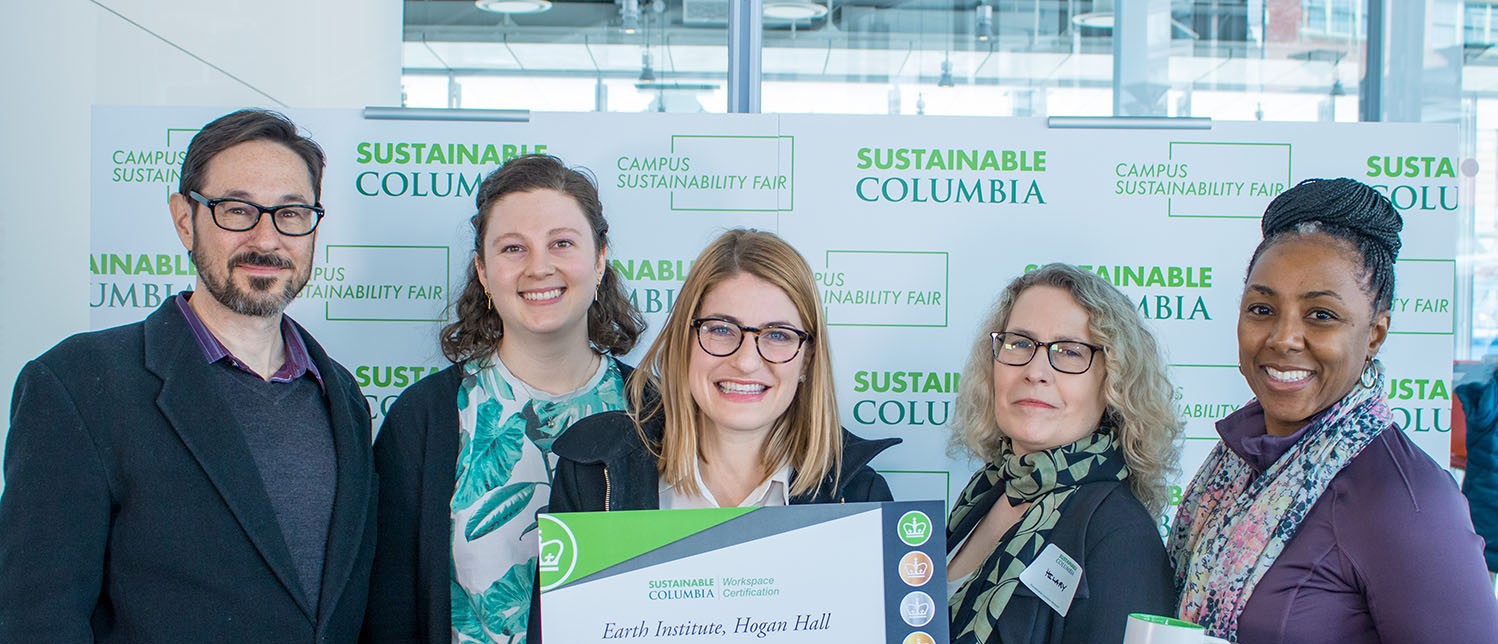 Previous
Next
Resources
Participants in the Workspace Certification Program can download these resources to help them promote sustainability in their spaces.