Columbia EcoReps Host 3rd Annual Youth Climate Summit for High School Students
Image Carousel with 5 slides
A carousel is a rotating set of images. Use the previous and next buttons to change the displayed slide
Slide 1: Youth Climate Summit gathered in Lerner Hall

Slide 2: EcoReps speaking at Youth Climate Summit

Slide 3: Students collaborating at the Youth Climate Summit

Slide 4: Speaker teaching students at Youth Climate Summit

Slide 5: Chalk board with student ideas from the Summit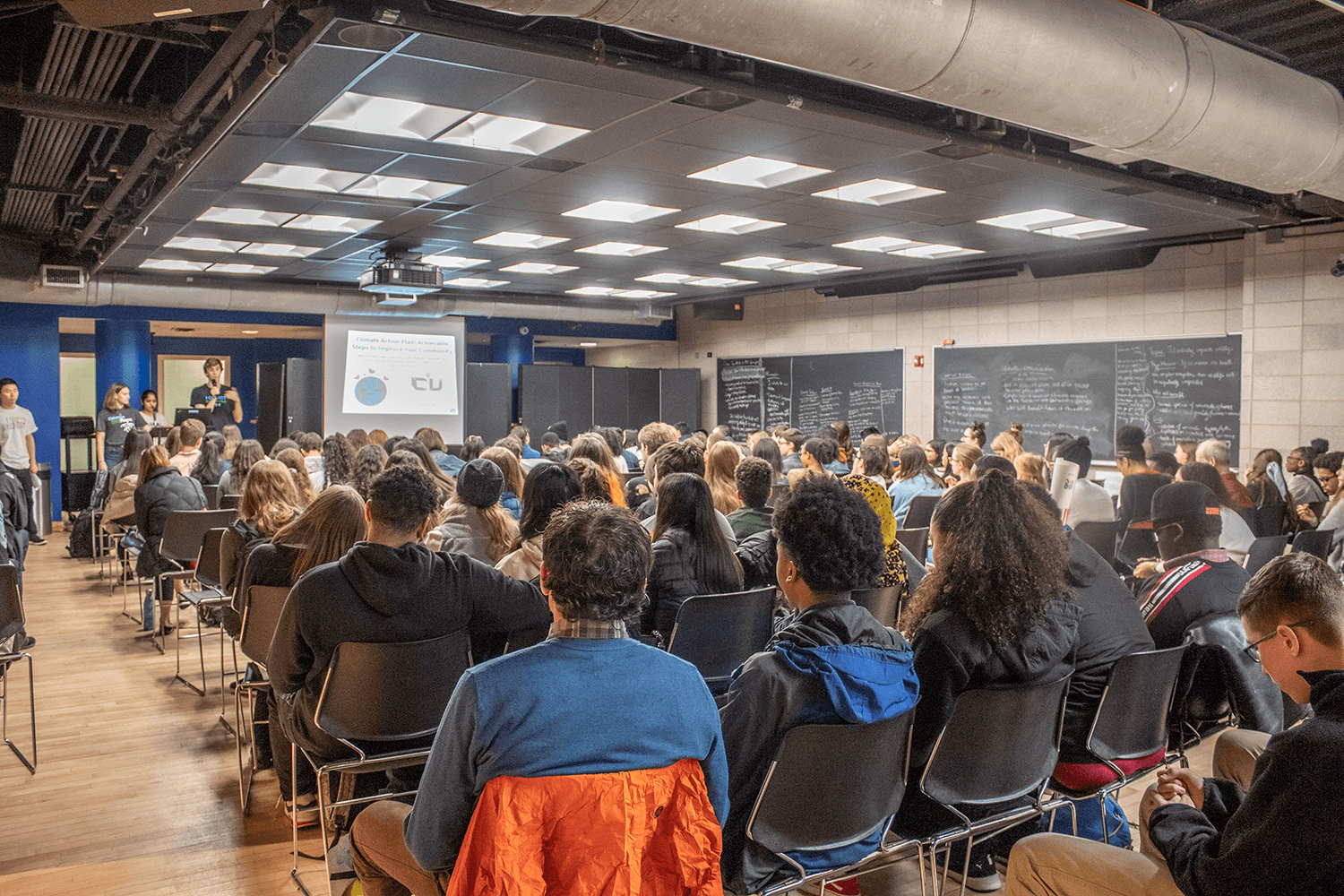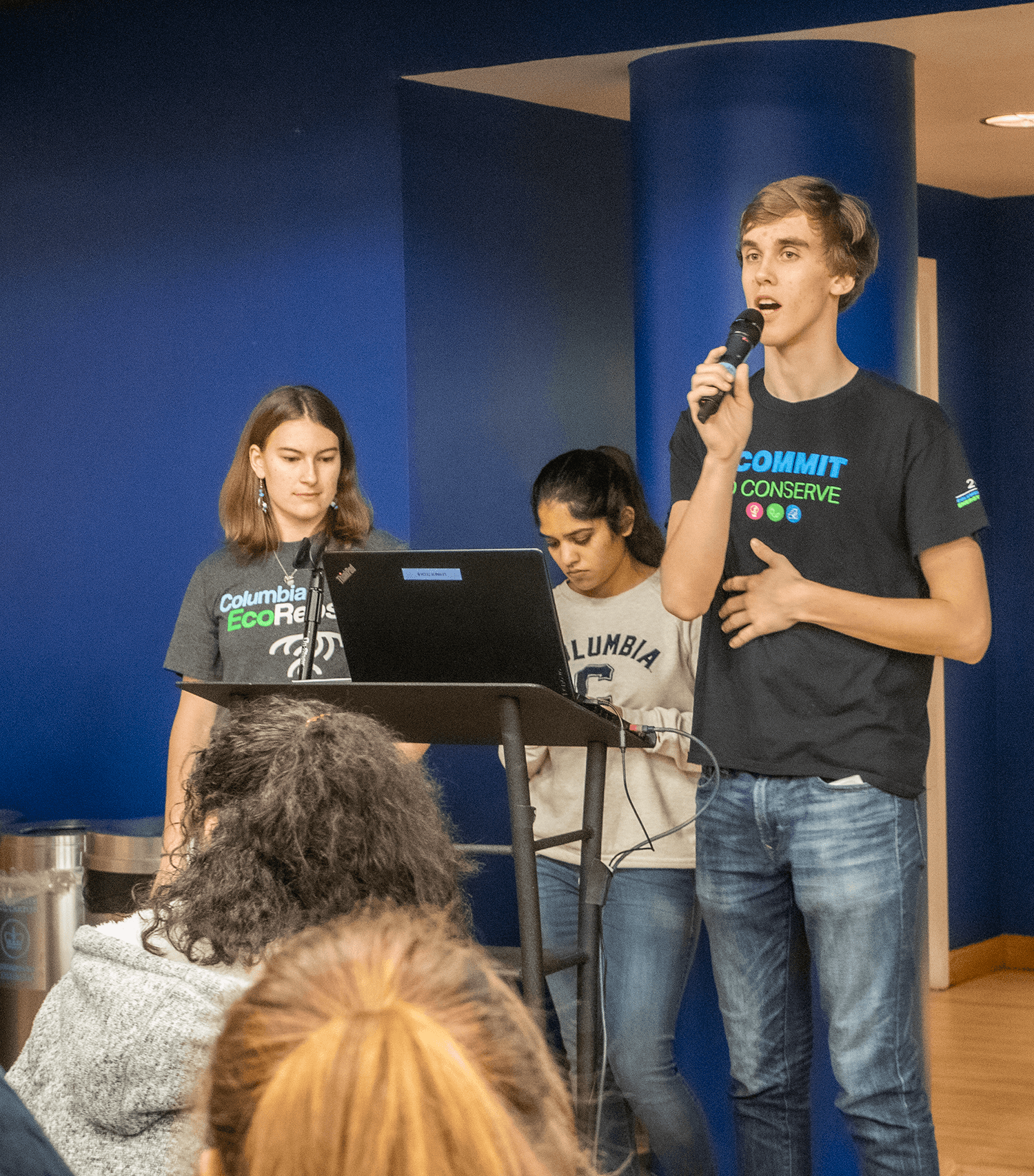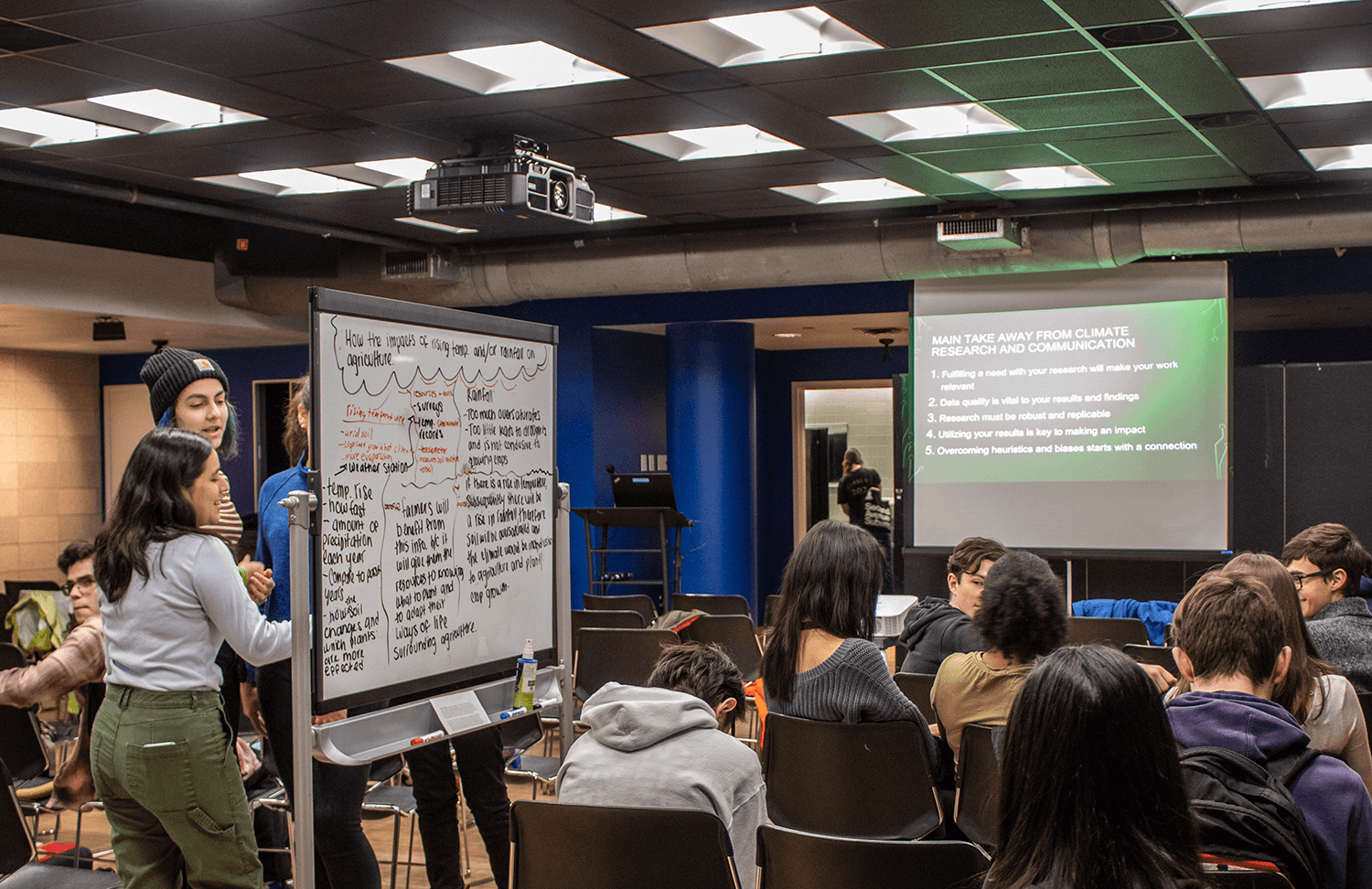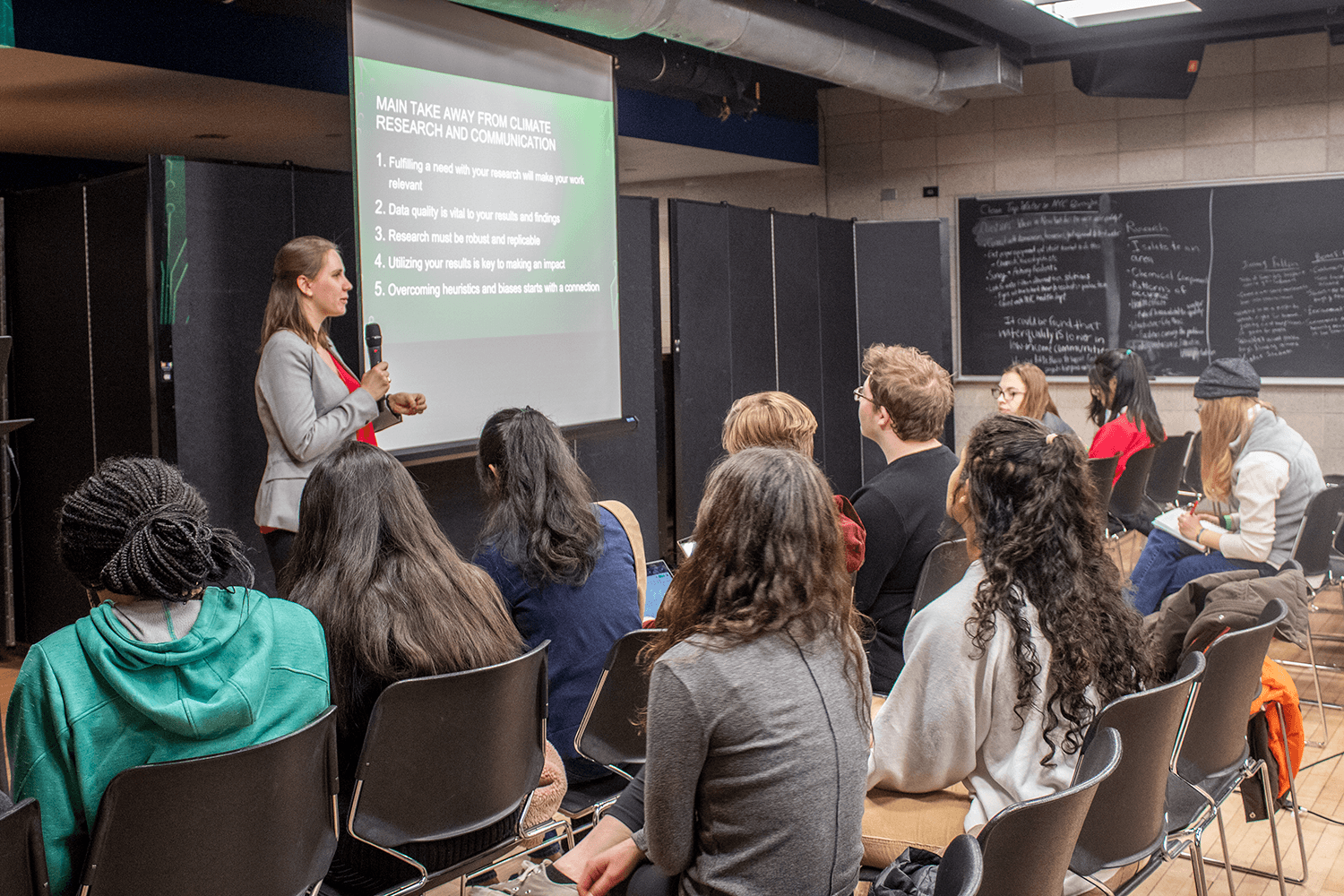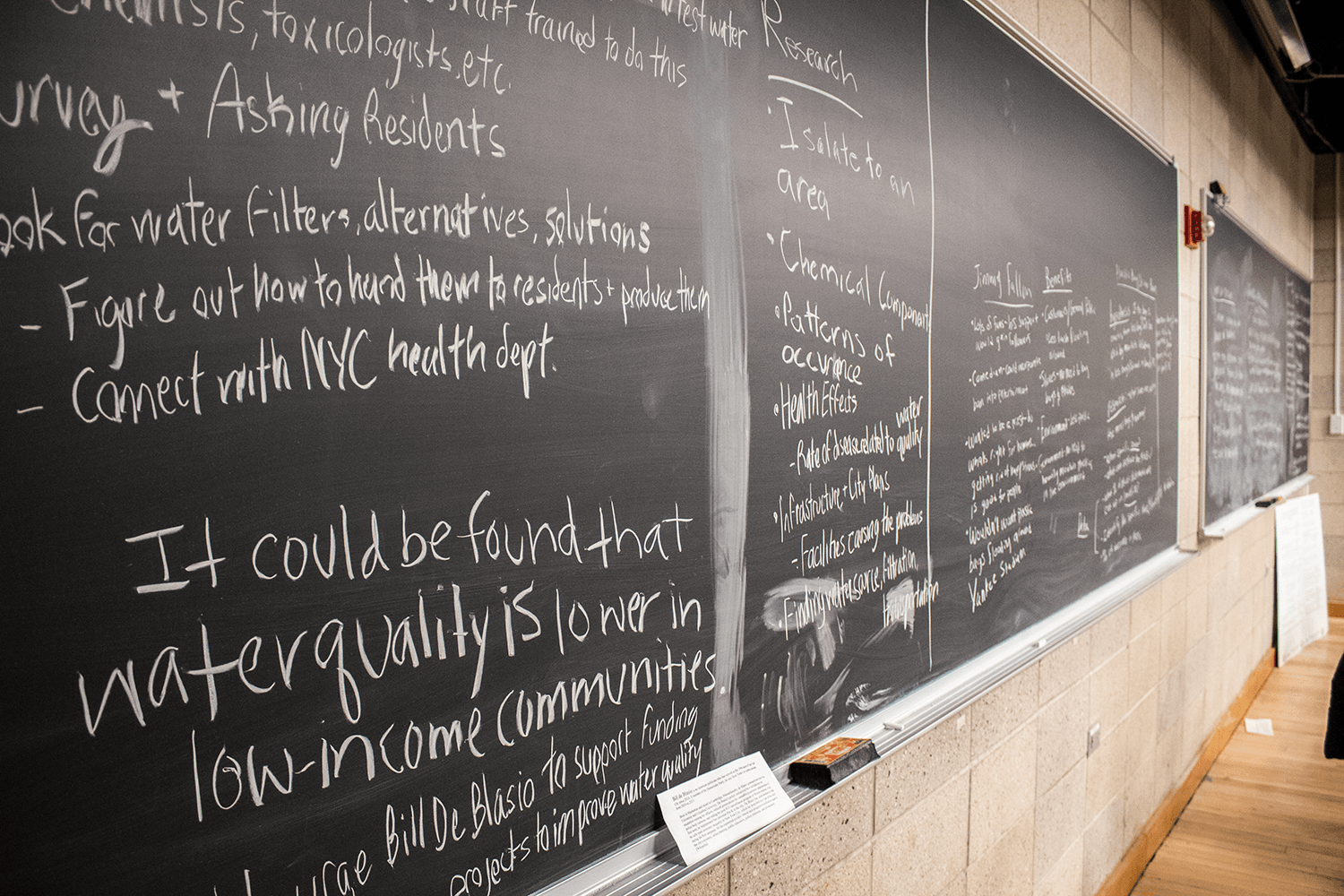 Previous
Next
Almost 200 high school students filed into Lerner Hall on Friday, March 6 to participate in the third annual Columbia Youth Climate Summit hosted by the EcoReps in partnership with Consilience, the Journal of Sustainable Development. At the all-day event, the students attended workshops and lectures by leading climate experts, and even crafted their own action plans to bring back to their school or community.
"The Youth Climate Summit provides students with education on climate change and sustainability, with a strong emphasis on solutions," said Silas Swanson (SEAS '21), founder and co-coordinator of the Youth Climate Summit. "We hope to develop students' confidence and knowledge base, so that they can truly make change within their school and community with the Climate Action Plans they write. The Summit is more than just a science conference, as we discuss the multiple pathways there are to take climate action through art, policy, media, engineering, and other disciplines."
The Summit began with a keynote by Jason Smerdon, Research Professor at Columbia's Lamont-Doherty Earth Observatory. Students also heard from a long list of experts in their respective fields, including:
Romany Webb, Senior Fellow at the Sabin Center for Climate Change Law;
Katina Paron of the Institute for Environmental Journalism and Anna Belle Peevey of InsideClimate News;
Meehan Crist, Writer-in-Residence in Biological Sciences at Columbia University;
John Rouse (Columbia University SIPA '18) of Recycle Track Systems;
Lisa Dale from the Sustainable Development Program at The Earth Institute;
Eric Arnum and Leslie Stevens from 350NYC;
Noah Rauschkolb, PhD Candidate in Columbia's Sustainable Engineering Lab;
Rachel Lit, Youth Arts Coordinator at The Climate Museum;
Erin Griffin, Climate & Communities Coordinator at The Wild Center;
Laurel DiSera, Senior Research Staff Assistant at the International Research Institute for Climate and Society at Columbia University;
Amogh Dimri, Yamila Frej, and Mai Hoang of Climate Tracker
"We were very fortunate to have such a passionate and experienced group of speakers this year," said Maria Chart (SEAS '21), co-coordinator of the Summit. "Through their workshops, each of which focused on a different sector of the environmental field, the students explored many actionable ways to get involved with and mitigate issues associated with climate change within their communities. This Summit would not have been possible without this wonderful group of experts that volunteered their time to teach our students. Special thanks must go to our keynote speaker, Professor Jason Smerdon, whose inspiring keynote set the mood for a fantastic day."
Throughout the action-packed day, students learned the latest in climate change research, as well as the economic and ecological consequences of climate change. They also gained strategies to respond and adapt to climate change in New York City and, in the process, save their schools and communities money. In the interactive workshops, schools were able to network with each other and share best practices, experiences, and challenges.
Sophia Ahmed (CC '21), co-coordinator of the Summit, said of the participants, "I was in awe over the passion that the students had for changing their local climatic impact. It gave me hope that a new generation is here to mobilize and take action for our planet and it made me confident that this is indeed the generation of change-makers! In addition to the students, I'm so grateful to the teachers who dedicated their days to bring the kids over to Columbia's campus. While we had the privilege of working with the students for a day, these teachers have dedicated their lives to ensuring that these values are instilled in the minds of countless students. They are amazing and we couldn't thank them enough!"
Most of the high schools registered with a team of five to eight students and one faculty advisor. At the end of the Summit, participants were mentored through the process of writing a climate action plan – a project outline they can implement when they return home – to influence operational changes in their high schools. In the weeks following the Summit, Columbia students will follow up with each school group to assist with students' progress on their action plans.
"I was super impressed with the creativity and imagination that they showed during the Climate Action Planning Session," said Justin Paik (SEAS '22), co-coordinator of the Summit. "From increasing vegetarian options, to monitoring air pollution with CO2 sensors, to creating YouTube channels, their Climate Action Plans are truly diverse and will make a tangible impact in how they think about and enhance environmental sustainability in their schools. We look forward to collaborating with them in the upcoming months and helping their Plans come to fruition."
About the EcoReps
Founded in 2005 by a team of students and administrators from the offices of Housing, Dining, and the Office of Sustainability, the EcoReps is a group of students working to promote sustainable behavior and implement green initiatives on Columbia's campus. Today, the EcoReps comprise about 50 active student members organized into Dining, Recycling, and Living Green committees. To learn more, visit the EcoReps website.
About Consilience
Consilience is a Columbia University-published online journal dedicated to promoting interdisciplinary dialogue on sustainable development, with topics on economics, science, and politics. Last year, the Journal website reached over 30,000 individuals, with users hailing from over 161 countries. The journal hopes to encourage a global community to think more broadly, thoroughly, and analytically about sustainable development.