Columbia Print Recognized for its Sustainability Efforts in Magazine Profile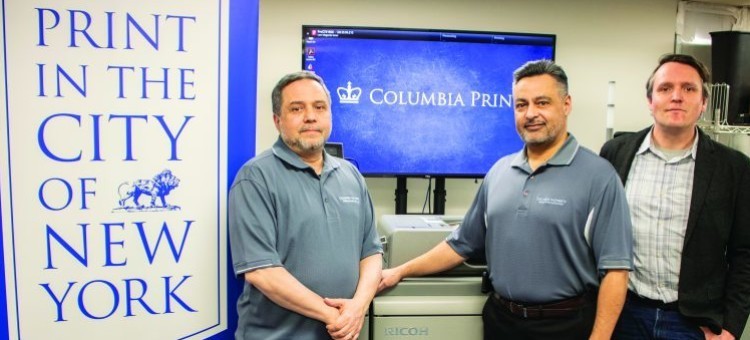 Columbia Print was recently profiled in In-plant Impressions (IPI), a graphic arts magazine written specifically for in-plant print shops. The article praised Columbia Print's sustainability efforts and innovation in the print industry, specifically their early adoption of carbon-reducing recycled and TreeZero paper. Columbia Transportation also received some kudos for its implementation of six battery-electric buses into the shuttle fleet. Read the full article on IPI's website.
Sustainability at Columbia Print
Even before Columbia formalized its sustainability strategy in 2017, Columbia Print was already using recycled paper made with 30 percent post-consumer waste (PCW) for black-and-white jobs. In 2015, Print started using only 100 percent PCW recycled paper for all black-and-white jobs, and in 2017 standardized all University stationery and business cards on 100 percent PCW recycled paper. In early 2019, Columbia Print switched to TreeZero paper (made from recycled sugarcane waste fiber to create a tree-free, carbon neutral product) for all black-and-white jobs. Late last year, the shop started printing all basic color jobs on Color Copy 100 percent recycled paper from Mohawk. For pickup and delivery, Campus Services uses a battery-electric Chevy Bolt, which can travel 238 miles on a single charge; a hybrid electric Subaru Crosstrek; a Chevrolet Tahoe Hybrid; and a Sprinter clean diesel van. The transition to using these vehicles has reduced CO2 emissions by an estimated 2.4 metric tons per year.
About In-plant Impressions
For more than 65 years In-plant Impressions (IPI) has been serving the in-plant industry. IPI is the only graphic arts magazine in the world written specifically for in-plants. Based in Philadelphia, IPI has been published since 1951 and focuses on helping in-plant managers increase productivity and stay competitive. Articles cover successful in-plants, new graphic arts technologies, in-plant best practices and strategies to help in-plants thrive. IPI also presents webinars, produces videos, runs conferences and publishes a bi-weekly e-newsletter focused on in-plant news.