Columbia Receives Strong Baseline Marks as City Launches Grading Program for Building Energy Efficiency
Image Carousel with 2 slides
A carousel is a rotating set of images. Use the previous and next buttons to change the displayed slide
Slide 1: Woodbridge Hall is one of many Columbia buildings that received an A rating for energy efficiency.

Slide 2: More than 80 percent of eligible Columbia buildings received A and B ratings.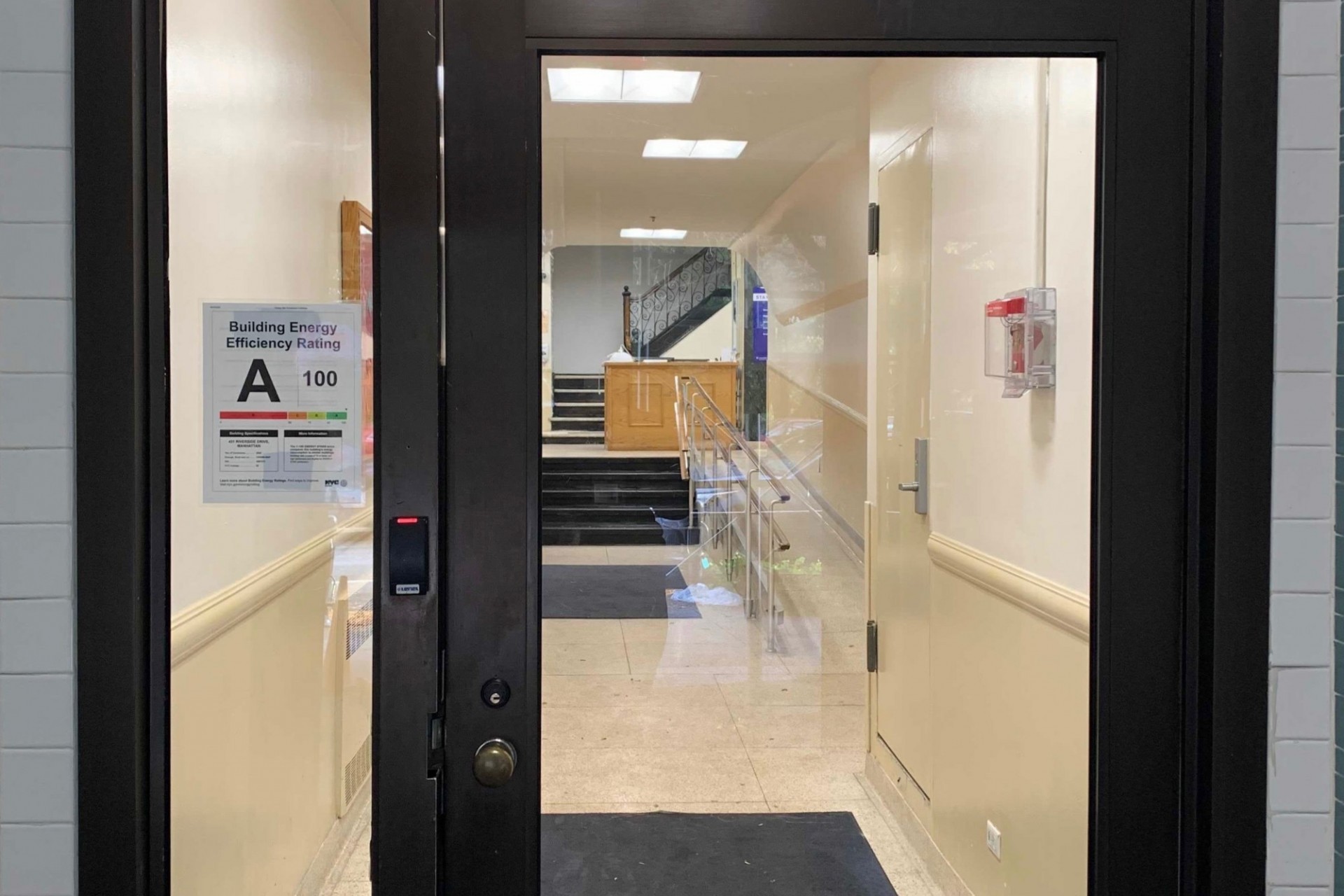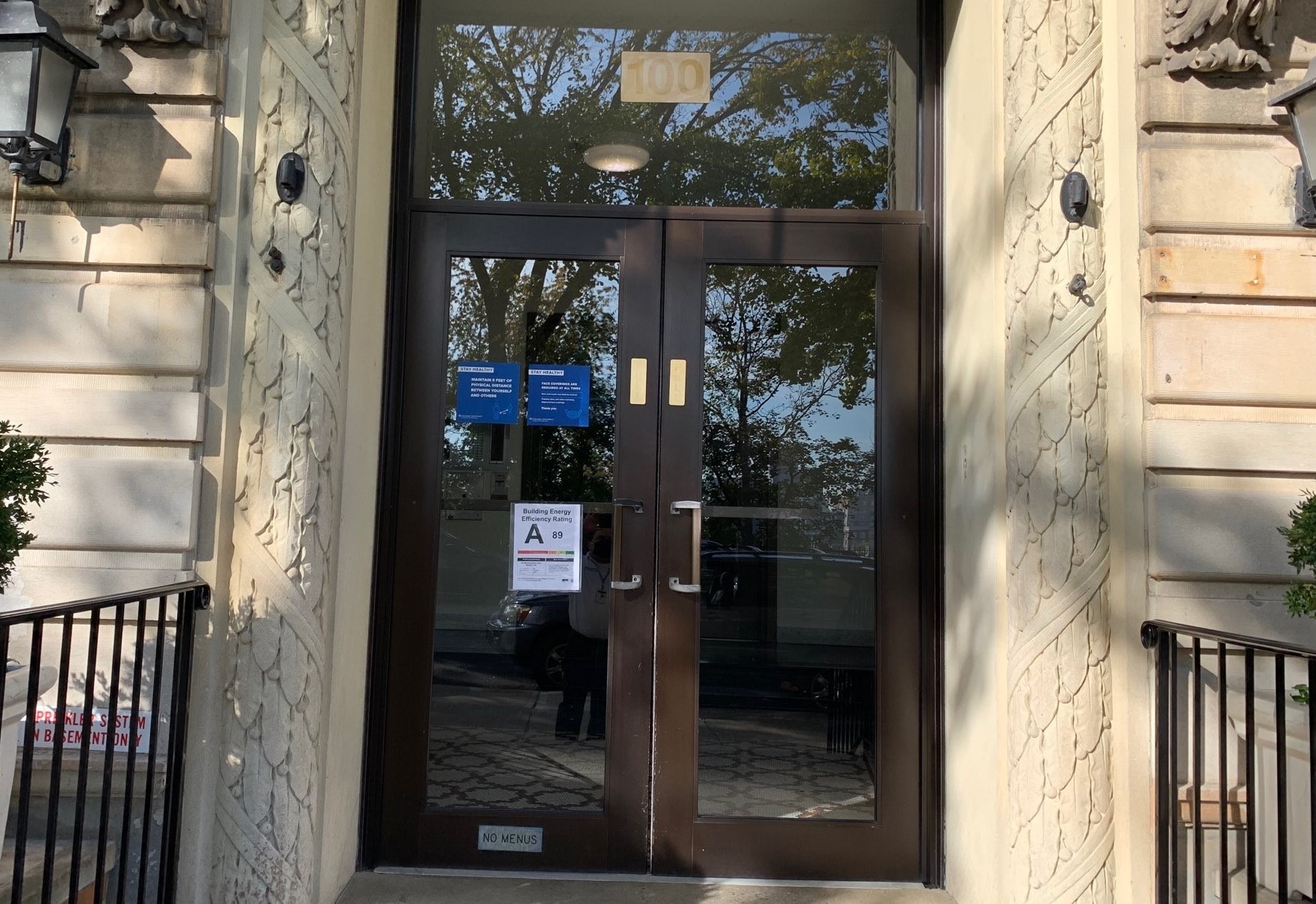 Previous
Next
As you walk around the neighborhood, you may see new Building Energy Efficiency Rating signs. 
These new signs are part of New York City's new benchmarking laws, which require eligible buildings across the city to measure and report their energy and water consumption annually for transparency. All buildings eligible for the program receive an energy efficiency score equivalent to the Energy Star Rating calculated using the United States Environmental Protection Agency online benchmarking tool, Energy Star Portfolio Manager. The EPA benchmarking tool compares building energy performance to similar buildings across the United States in terms of size, use, climate and other characteristics. 
Aggregated energy and water consumption data from the base building, including usage from common spaces and heating, as well as individual units and commercial spaces is analyzed by the EPA's benchmarking tool. Each building is scored between 1 and 100, with 100 being the highest score. The EPA's Energy Star Rating is designed such that a score of 50 represents median energy performance among comparable buildings. Signs with the building's rating will be posted at building entrances, similar to restaurant health inspection grades. 
Sixty-two Columbia-owned building systems received an Energy Star Rating based on energy and water consumption data for 2019. (Note that multiple buildings can share the same building system.) Fifty-one building systems received A and B ratings, with six receiving a C rating and five receiving a D rating. Contested submissions (for example, one address represents active construction for a new building) automatically receive an F; however several of those ratings have already been dismissed and Facilities and Operations is working to resolve the remainder with the NYC Department of Buildings.   
Eighty-five buildings received an N rating or were not eligible to be graded, indicating that there were not enough comparable buildings based on the usage type across the country to create a national benchmark, or a building's energy usage could not be isolated due to shared systems across buildings. Buildings that were not eligible to be graded will not have a grade posted.   
"The inaugural benchmarking grades – with more than 80 percent of Columbia's eligible buildings receiving an A or B – is a remarkable result, especially when considering that many residential buildings are over 100 years old and have limited opportunities to improve their efficiency," said David M. Greenberg, executive vice president of Facilities and Operations. "This result speaks to our team's concerted long-term efforts and strategy to continually improve the sustainability of our building operations." 
As part of the University's commitment to sustainability, Facilities and Operations implemented a wide range of energy-saving initiatives well before the city created the building benchmarking program that positively contributed to these ratings. For example, 113 University-owned apartment buildings were converted from distillate oil to natural gas as the primary fuel source for heat and hot water, resulting in 7,236 metric tons of CO2e reduced annually, equivalent to the average car making more than 690 trips around the earth (17,228,571 miles). Earlier this year, Columbia Residential operations and maintenance staff completed a 30-hour Building Operator Training to help improve energy efficiency of residential buildings and reduce operating costs, which can result in an energy savings of between 5 and 20 percent. 
A continued commitment to reduce greenhouse gas emissions and enhanced energy efficiency aligns with the current sustainability plan and will be embedded in the University's next plan, Plan2030, to be released in April 2021. Facilities and Operations will perform an assessment of building systems – starting with those that received lower scores – to inform plans to improve on these baseline ratings. Some potential initiatives over the next several years include façade improvements to address thermal loss, retrocommissioning, LED lighting upgrades and continued boiler maintenance and controls upgrades, and energy conservation measures. 
In addition, many of the buildings that received lower ratings did not take into account that retail spaces were part of the building when benchmarking, or have legacy gas-fired chillers and microturbines that are in the process of being phased out. These scores are anticipated to rise in future years when the buildings are rated compared to comparable mixed-use buildings and additional improvements are made. 
The benchmarking mandates allow building owners, tenants, and operators to assess current energy usage to better understand how their buildings are performing, and develop efficiency plans to meet goals outlined in the City's Climate Action Plan, which includes a 40 percent carbon reduction by 2030 and 80 percent carbon reduction by 2050 relative to 2005 levels.   
Columbia is committed to improving energy efficiency as part of its sustainability goals and in support of New York City's emission reduction goals. The University is working on a 10-year sustainability plan, anticipated to be released in April 2021, and has pledged to reach carbon neutrality by 2050 or sooner.