Columbia University Joins Global "Race to Zero" Pledging Immediate Action Against Climate Change
Columbia's commitment to reach net zero by 2050 or sooner and its new sustainability plan qualify the university for participation in this global challenge.
October 29, 2021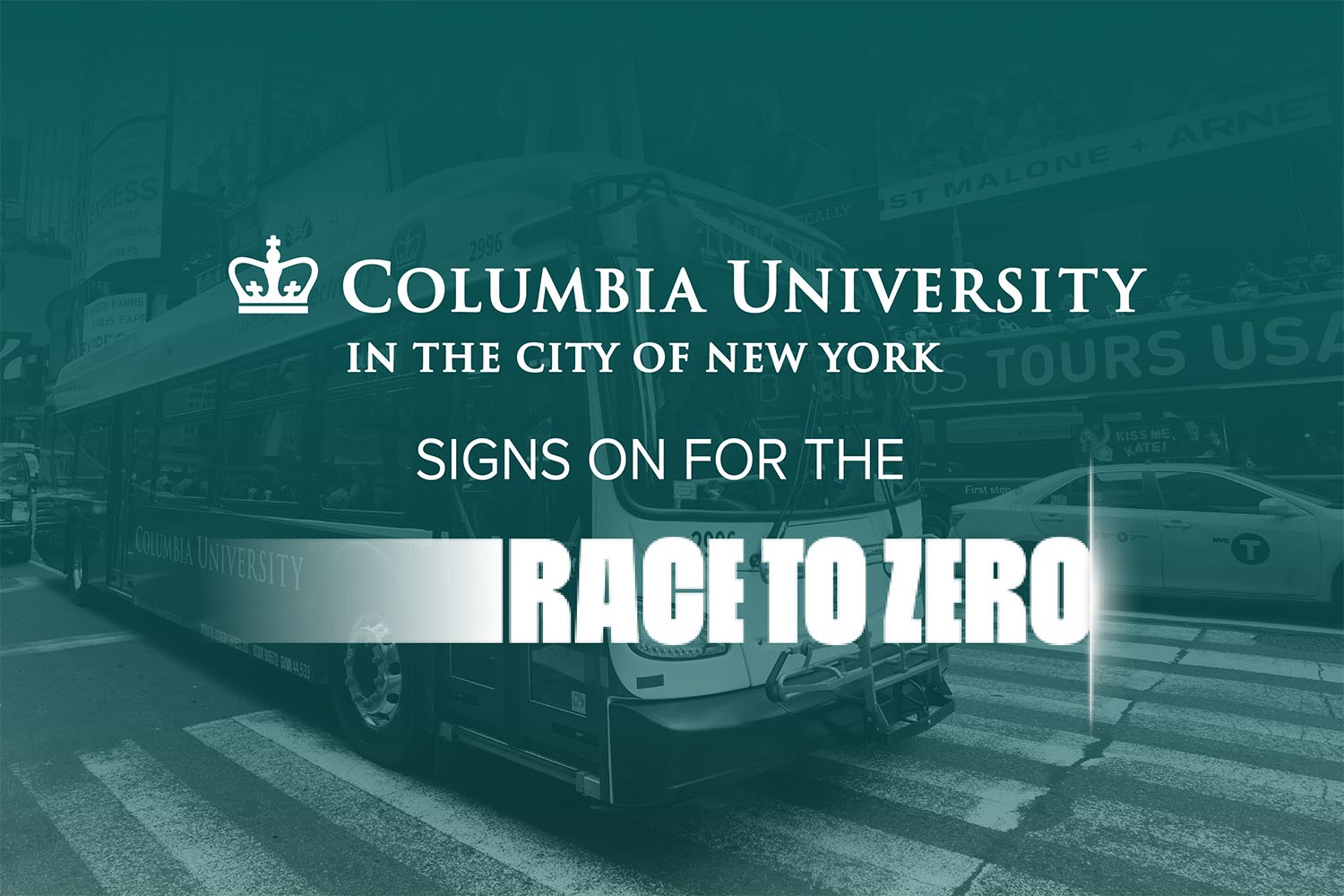 Columbia University has joined Race to Zero, a global initiative for a zero carbon world. Run in partnership with the Alliance for Sustainability Leadership in Higher Education (EAUC), Second Nature and the United Nations Environment Programme (UNEP), Race to Zero rallies non-state actors – including companies, cities, regions, financial and educational institutions – to take rigorous and immediate action to halve global emissions by 2030.
All Race to Zero members are committed to the same overarching goal: reducing emissions across all scopes swiftly and fairly in line with the Paris Agreement, with transparent action plans and robust near-term targets. To qualify for Race to Zero, organizations must meet the criteria set by an Expert Peer Review Group comprising scientific and technical experts from around the world.
"The actions set forth in Columbia's newest sustainability plan align perfectly with the requirements for joining Race to Zero," said David Greenberg, Executive Vice President for University Facilities and Operations. "We're proud to join together with other leading organizations who have committed to similarly aggressive climate goals."
As heads of state, business leaders, and members of civil society gather next week in Glasgow for the UN's 26th Climate Change Conference (COP26), Columbia's decision to join the Race to Zero aligns the university with a global class of organizations committed to combatting climate change. This year, Columbia will expand its presence at COP26 through its new Climate School, which will host special events and share stories including a variety of perspectives from global thought leaders, students, and experts.
"With the world's eyes on COP26 in Glasgow, it is clear that all institutions have a role to play in spurring the action needed to achieve a net zero world and avoid the worst consequences of our climate crisis," said Daniel Zarrilli, Special Advisor for Climate and Sustainability at Columbia University. "Joining the Race to Zero campaign demonstrates Columbia's commitment to climate leadership during this decisive decade and encourages other institutions to raise their own ambitions. We're proud to join this global effort to support real climate solutions as we work to end the age of fossil fuels."
Race to Zero first requires organizations to pledge to reach net zero greenhouse gas emissions (GHG) as soon as possible, and by 2050 at the latest, to limit global warming to 1.5 degrees C. Having pledged, organizations have one year to set targets and to take immediate action toward achieving them. Organizations must also commit to report publicly both progress against interim and long-term targets, as well as the actions being taken, at least annually.
Columbia's January 2020 statement by University President Lee C. Bollinger fulfills the first requirement, and Plan 2030 – released in April of 2021 – fulfills the rest. Plan 2030 explains what science-based actions will be taken toward achieving both interim and longer-term goals, and also commits to tracking and reporting progress in annual progress reports, to be released in April of each year.
Plan 2030 also includes Scope 3 emissions targets, something Race to Zero requires for its members. Scope 3 emissions are the result of activities from assets not owned or controlled by the reporting organization but indirectly impact its value chain, such as emissions from commuting employees or business-related air travel by Columbia affiliates. While Scope 3 emissions are not always included in GHG reporting standards, Columbia is ahead of the curve. The university has been tracking and reporting emissions related to commuter and business travel since 2017, and has set targets to reduce them in Plan 2030.
"Columbia is well on its way to meeting its interim targets thanks to the hard work and dedication of our students, faculty, and staff," said Jessica Prata, Associate Vice President for the Office of Sustainability. "As a university positioned at the forefront of climate change research, education, and operational sustainability, we're proud to join Race to Zero."