Columbia University Receives STARS Gold Rating for Sustainability Achievements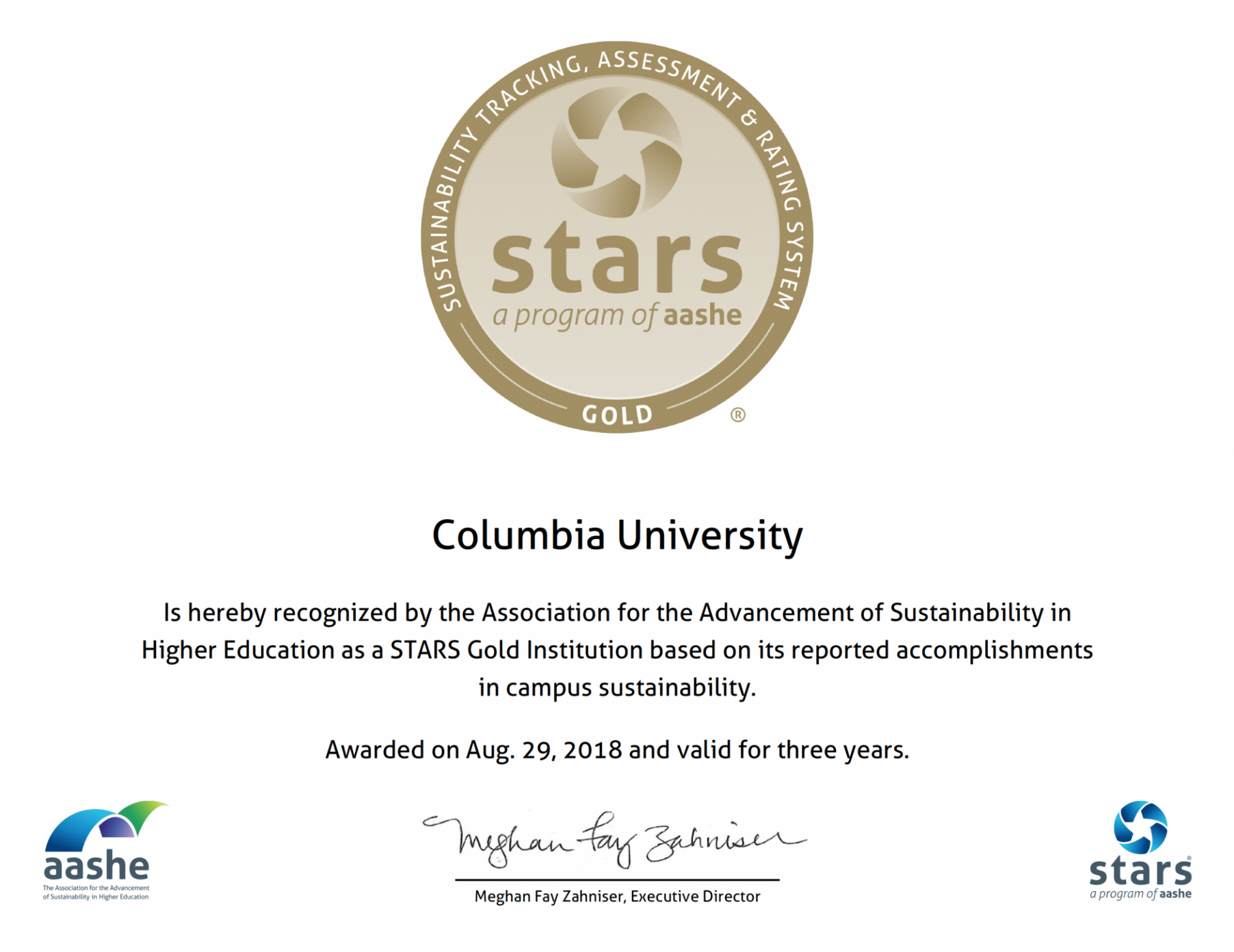 STARS, the Sustainability Tracking, Assessment & Rating System, measures and encourages sustainability in all aspects of higher education. In submissions in 2012 and 2015, the University also received Gold. Columbia's STARS report is publicly available on the STARS website.
 "It's important for Columbia to voluntarily report on our sustainability achievements to a third-party rating system like STARS," said Assistant Vice President of Environmental Stewardship Jessica Prata. "Earning a Gold rating proves that we aren't just talking about sustainability—we are taking action."
In this year's STARS report, Columbia scored particularly high in campus engagement due to the Sustainable Leaders Network (SLN) and related efforts to reinforce sustainable behavior-change across campuses. Implemented in 2018, the SLN Workspace Certification Program is an online benchmarking system where schools and departments can track actions that transform their offices, labs, and classrooms into sustainable workspaces. The collaborative program helps offices make gradual shifts in behavior, track their progress on goals, and compare notes with other workspaces to share best practices.
Columbia unveiled its first campus-wide sustainability plan in 2017, pledging to cut greenhouse gas emissions by 35 percent in the next three years. The plan, released a day before Earth Day, represents a practical fulfillment of the sustainability principles that University President Lee C. Bollinger announced at the beginning of the 2016 academic year. It sets clear targets for shrinking Columbia's carbon footprint and reducing waste by improving efficiencies in campus operations, boosting composting, recycling and public transit use, and investing in energy-saving technology. More than a year in the making, the plan was produced with extensive input from students, administrators and faculty scientists—many of them world leaders in the sustainability field.
In 2018, Columbia was recognized as the top school for Transportation in AASHE's 2018 Sustainable Campus Index for its electric and alternative fuel vehicle fleet; sustainable commuting options; bicycle-friendly amenities; carpool and car share incentives; electric vehicle charging stations; and high percentage of students, faculty and staff that utilize sustainable transportation. Last summer, the University converted its entire intercampus campus shuttle network fleet to new battery-electric buses. Among the first electric buses to be introduced in New York City, the vehicles offer both environmental and health benefits, including reduced emissions and noise pollution, and improved air quality. Columbia also added a number of electric vehicle charging stations on campus.
Columbia supports a flourishing bicycling community on, around, and between campuses with secure bike storage, shower facilities, and a campus bike share program. For these efforts, Columbia was recognized as a Silver-Level Bicycle Friendly University by the League of American Bicyclists.
Columbia was also selected for The New York State Association for Reduction, Reuse and Recycling (NYSAR3) Recycling Leadership Award in 2018 for its efforts to promote recycling, composting, and other initiatives that reduce waste to landfill.
"At Columbia, we are always looking for new and innovative ways to reduce our footprint while providing best-in-class service to our community," said Vice President of Campus Services Scott Wright. "We are honored to be recognized by AASHE as a leader in sustainability, and the Columbia community should be proud of the part they play in making it a part of their daily lives on and off campus."
With more than 800 participants in 30 countries, AASHE's STARS program is the most widely recognized framework in the world for publicly reporting comprehensive information related to a college or university's sustainability performance. Participants report achievements in five overall areas: 1) academics 2) engagement, 3) operations, 4) planning and administration, and 5) innovation and leadership.
"STARS was developed by the campus sustainability community to provide high standards for recognizing campus sustainability efforts," said AASHE Executive Director Meghan Fay Zahniser. "Columbia has demonstrated a substantial commitment to sustainability by achieving a STARS Gold Rating and is to be congratulated for their efforts."
About Sustainable Columbia
Sustainable Columbia is the brand identity for Columbia University's campus sustainability initiative, centralized through the Environmental Stewardship office and executed by a variety of University departments and projects. The Sustainable Columbia mark visually connects the many programs on campus that contribute to the success of our campus sustainability efforts by helping meet the goals set forth in the campus-wide sustainability plan.
About AASHE:
AASHE is an association of colleges and universities that are working to create a sustainable future. AASHE's mission is to empower higher education to lead the sustainability transformation.  It provides resources, professional development and a network of support to enable institutions of higher education to model and advance sustainability in everything they do, from governance and operations to education and research. For more information about AASHE, visit www.aashe.org.
For more information about the STARS program, visit stars.aashe.org.