Columbia's new Amtrak Deal Offers Cost Savings and Sustainability Benefits
This past January, Columbia partnered with Amtrak to provide lower negotiated rates on rail travel on Amtrak's Northeast Corridor (NEC), which connects the major economic areas of New York City, Philadelphia, Boston, and Washington, DC.
In addition to financial savings, this new agreement significantly contributes to the University's sustainability plan, Plan 2030, by enhancing the competitive edge rail travel has over flying, reducing emissions and promoting environmentally-friendly travel to these frequented destinations.
"Per passenger mile, rail has a much lower emissions impact than by air travel, so we want to make certain Columbia affiliates are aware of these new travel benefits and choose rail travel over flying for these nearby cities that are easily reached by rail," said Daniel Allalemdjian, Director for Sustainability and Transportation in Columbia's Office of Sustainability.
The negotiated fares can be booked online using Concur via Columbia's Travel and Expense website or over the phone with World Travel Inc. Columbia travelers will now have special access to a fully refundable "Saver" fare, whereas the "Saver" fare reservable on the Amtrak's website is non-refundable.
"Amtrak is the latest vendor to be added to our portfolio of preferred travel providers, delivering value to the University through cost savings and a more efficient booking process via Concur to reserve train tickets for business travel," said Ramón Bocarro, Director, Travel and Expense Management in Columbia's Procurement Services department.
What benefits does Columbia's agreement include?
Access to heavily discounted "Saver" fares which will be fully refundable. (Saver fares are non-refundable when purchased on Amtrak.com)
Negotiated rates on all Acela Business Class travel between Boston, MA and Washington, DC (inclusive of intermediate segments). 
Negotiated rates on Northeast Regional Business Class and Coach travel for the following travel segments:

New York, NY to/from Philadelphia, PA and Wilmington, DE
Philadelphia, PA to/from Stamford, CT
Washington, DC to/from Philadelphia, PA and Wilmington, DE
Additionally, Concur allows users to compare air and rail travel options side by side, and flight search results will include emissions data, making it easy to choose the most sustainable travel option. Negotiated rates are not available for commuting or personal trips.
What are the emission savings traveling by rail instead of air?
According to Amtrak, traveling by rail on the NEC results in 73% less carbon emissions than flying. The table below reflects the number of air travel trips taken in 2022 by Columbia affiliates on business traveling between New York City area airports and the destinations shown. The Office of Sustainability calculated that the carbon footprint for these 351 trips totaled 55,910 pounds of CO2 and estimated that if these trips were instead taken by rail the carbon footprint would be 15,096 pounds of CO2.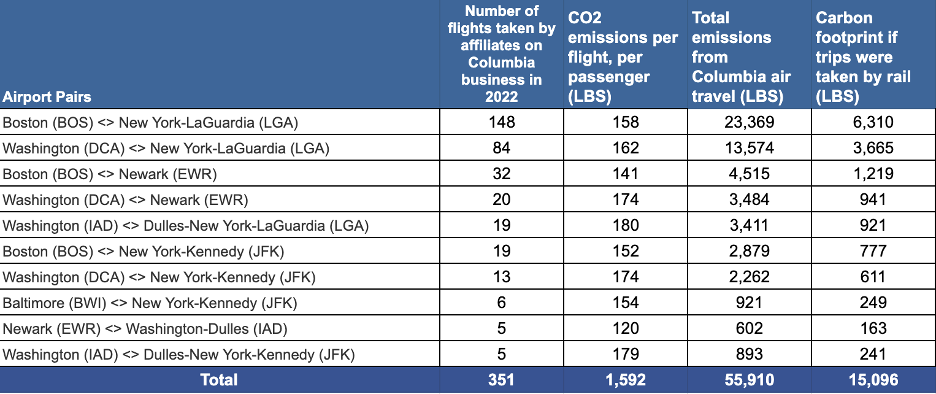 Columbia's Office of Sustainability calculated the above air travel emissions using the International Civil Aviation Organization's carbon calculator.
Columbia is pleased to offer this sustainable travel option to its affiliates and contribute to the University's collective efforts to reduce its carbon footprint. The Office of Sustainability encourages everyone to consider Amtrak's Preferred Rail Program when planning their next business trip.