Spring 2023 Bicycle Interest Group Newsletter
Events
Ride Your Bike to Campus Days – April 12, 21, and 28, 2023
Mark your calendar for Public Safety's Ride Your Bike to Campus Days on the Morningside, Manhattanville, and Medical Center campuses! At the events, you can meet other cyclists, receive free bicycle registrations, bike tune-ups, and more. You can also stop by the Sustainable Columbia table to learn more about biking at Columbia. Ride your bike to campus and get involved on these dates and locations:
Morningside Campus: 10:00am-3:00pm; Wednesday, April 12, College Walk/Sundial 
Manhattanville Campus: 10:00am-3:00pm; Friday, April 21, Lenfest Square, 615 West 129th Street
Medical Center Campus: 10:00am-3:00pm; Friday, April 28, Front of 701 West 168 Street / Ft. Washington Ave.
Columbia News
Abandoned bikes will be cleared out of Morningside campus's bike parking enclosures after June 1, 2023
This month, bikes suspected of being abandoned in the Morningside campus bike enclosures were tagged with a notice for removal for June 1st 2023. Efforts to contact the owners are ongoing, but after this 90-day notice period, any unclaimed bikes will be cut and removed from the bike enclosures and donated to a non-profit. These clearing out efforts are important for the efficient use of Columbia space and to enable more cyclists to find a convenient space to secure their bike.
Read Columbia's policy for the use of commuter bicycle parking enclosures on the Morningside Heights campus.
CUIMC employee tells of her New Jersey bike commute, inspiring others
Recently Lauren Kelly, Senior Project Manager for Safety and Regulatory Affairs, was interviewed and added to Columbia's Commute Stories webpage to serve as inspiration for Columbia folks. Some days, Lauren said, biking from Ramsey, NJ where she lives was even faster than driving – not to mention the added benefits of exercise, fresh air, and the avoided greenhouse gas (GHG) emissions. The goal of Commute Stories is to highlight Columbia affiliates who are stepping out of typical commute modes and choosing to experiment with healthier and more environmentally sustainable travel modes.
Read about Lauren's story on the Transportation website.
Do you have an inspiring commute for the Commute Stories webpage? Email the Office of Sustainability at [email protected]. Selected stories will receive 20 Flex dollars on their CUID.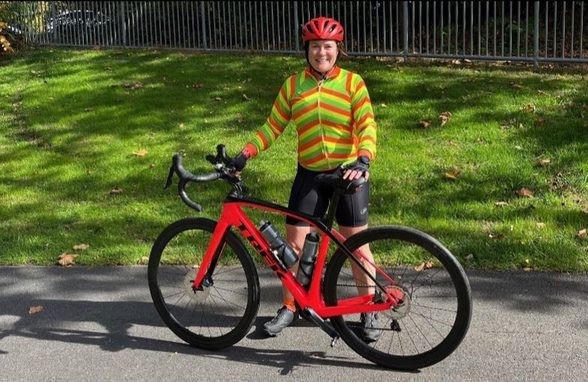 Micromobility updates around the city
New bike and pedestrian path open north of the George Washington Bridge, and closure of south
Last month, the renovated pedestrian and bike path opened on the north side of the George Washington Bridge. The dramatic improvements include the removal of any stairs, new and wider access ramps without any hairpin turns, wheelchair and stroller accessibility, and spacious entry plazas. Access to the bridge on the NYC side is at West 180th Street and Cabrini Boulevard. Also last month, the south side pedestrian and bikeway closed to accommodate work to replace the suspender ropes on the south side of the bridge and will be redesigned similarly to the north side.
Learn more and stay up to date on the Port Authority NY NJ.
Sign up for George Washington Bridge information, updates, and alerts for cyclists and pedestrians.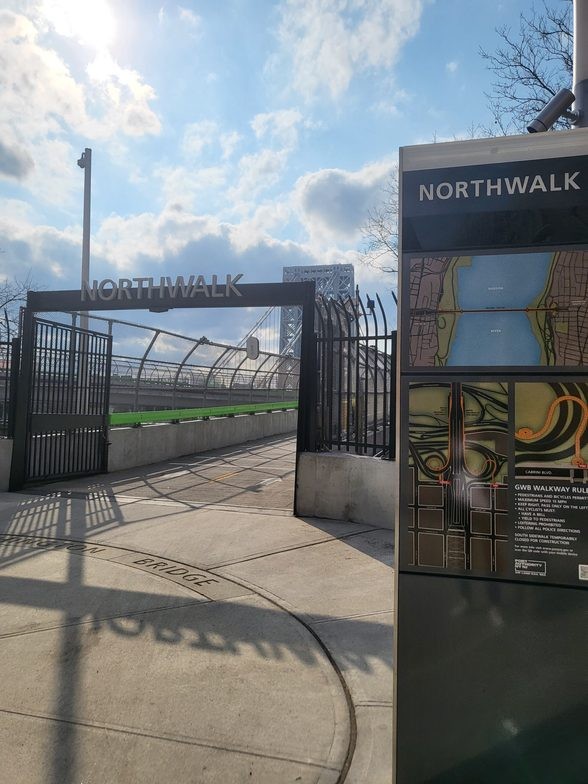 NYC's plan to combat lithium-ion battery fires, promote safe electric micromobility usage
The electric mobility space is a critical part of developing an equitable and sustainable transportation network. However, new safety issues have arisen including fires from electric bikes' lithium-ion batteries. This month, New York City Mayor announced Charge Safe, Ride Safe: New York City's Electric Micromobility Action Plan.
The Charge Safe, Ride Safe plan identifies four pillars to achieve the administration's goals for safer e-micromobility and a safer city:
Supporting New Yorkers' Transition to Safe and Legal E-Micromobility Use
Increasing Education and Outreach About Safe Device Usage
Bolstering Regulation and Enforcement Against Illegal Device Usage
Promoting the Growth of Safe E-Micromobility and Cycling
In addition to the city's new action plan, NYC's Mayor signed five bills into law to improve e-micromobility safety, including law that will prohibit the sale, lease, or rental of powered mobility devices, such as e-bikes and electric scooters that fail to meet recognized safety standards of Underwriters Laboratories (UL) standard 2849. Read more here.
The use of electric micromobility devices at Columbia
Columbia recognizes the valuable transportation benefit of electric micromobility devices as they provide a convenient and sustainable travel alternative. Electric micromobility devices such as e-bikes and e-scooters should be parked outdoors and locked to a bike rack and are permitted in the outdoor Morningside campus bike enclosures, as long as access is not inhibited for other users.
Columbia recently created this Lithium-Ion Battery Safety notice that outlines the hazards and gives directives for the use of devices with Lithium-Ion batteries. Some important safety directives within it are:
Purchase and use devices from reputable sources and only batteries and devices that have an Underwriters Laboratories (UL) or Electrical Testing Laboratories (ETL) mark, which indicate that the battery and/or device has been safety tested and will perform as expected compared to non-UL or non-ETL products.
Charge the device or batteries using chargers that bear the UL or ETL mark, in accordance with the manufacturer's instructions at all times. Make sure to charge the device in a safe place - never under a pillow, on a bed or couch, or similar setting - and do not overload outlets.
"Fleet charging" of multiple e-scooter or e-bike batteries is NOT permitted inside any Columbia University campus or residential building or on Columbia University property.
Store the device/battery at room temperature, out of direct sunlight and away from open flames or anything flammable
Ride with a friend using Citi Bike
Want to bike around with a friend who doesn't have the Citi Bike app? Check out the new "Ride together" feature in the app which allows you to ride with a friend with them signup up. Tap the people symbol next to the "Scan" button on the Citi Bike app.
Bike NY offers free bicycle educations classes for adults and youth in all five boroughs.
Columbia sponsored workshops to support well-being from the Office of Work/Life.
Stay active this spring: Join the upcoming Island Odyssey Step Challenge
The Office of Work/Life is hosting a step challenge this semester and you are invited to join! By tracking steps, bike distance, and more, you will virtually hop between exotic islands and unlock mindfulness tips along the way. The challenge will be hosted on the mobile app MoveSpring. Register here.
More commute and travel resources:
For additional information about your travel options, including important information for being a cyclist at Columbia, visit Columbia's Transportation website. On behalf of the Sustainable Columbia Working Group for Transportation, thank you for being enthusiastic about bicycling and active travel.
Be well,
Daniel Allalemdjian, Director, Sustainability & Transportation, Office of Sustainability
Daniela Elazari, Director of Well-Being, Office of Work/Life
These initiatives contribute to the goals outlined in Columbia's Sustainability Plan.