Columbia University Public Safety's Gradual Transition to Electric Vehicles Results in 33% Reduction in Annual Fleet Emissions Since 2019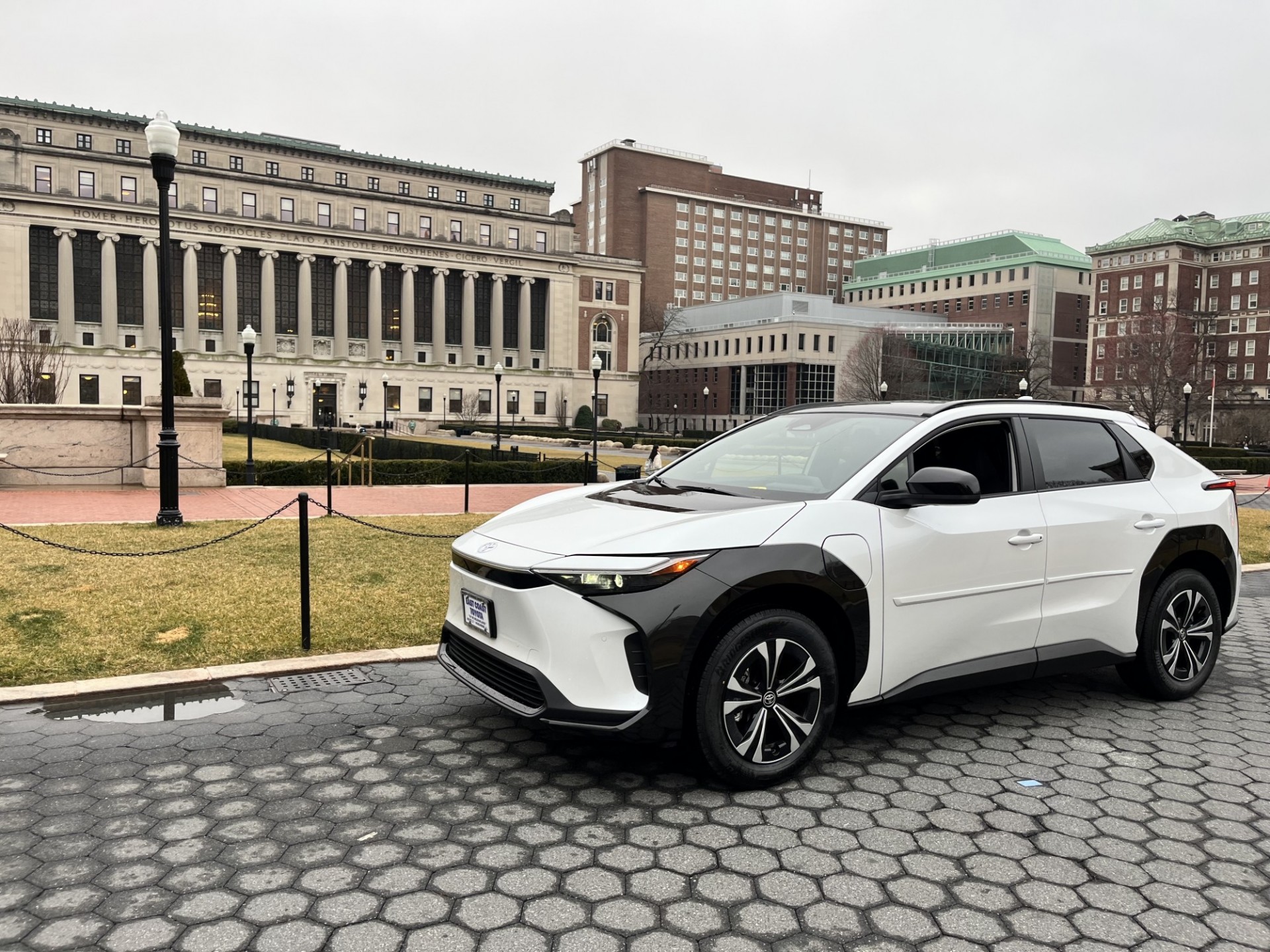 Through gradually transitioning its vehicles to hybrid and electric as they need to be replaced, Columbia University's Department of Public Safety has greatly reduced its emissions. As the 2022 reporting year came to a close, it was revealed that the department has achieved a 33% drop in fuel consumption since 2019, which is the baseline year for Columbia's sustainability plan, Plan 2030.
Public Safety acquired five new patrol vehicles this past winter, which offer improved sustainability performance and support Plan 2030. The vehicles, which include one fully electric model, a Toyota BZ4X; a Plug-in electric Toyota RAV4; and four hybrids (Toyota Corolla, Toyota Camry, Toyota RAV4, and Hyundai Sonata) are currently on patrol.
These new additions meet Columbia's Plan 2030 Commitment Area: Sustainable Transportation where Columbia commits to decarbonizing its fleet by only acquiring hybrid or electric vehicles by 2027, and only acquiring electric after that time.
Public Safety is responsible for ensuring a safe and secure environment for students, faculty, staff, and visitors. The patrol vehicles are necessary to ensure the safety of the Columbia community and are on patrol most hours of the day. In total, Public Safety has 21 hybrid vehicles, three electric vehicles, and one plug-in hybrid vehicle. Together with the Office of Sustainability, all administrators overseeing vehicles at Columbia track and report their annual fuel consumption as part of Columbia's sustainability initiatives.
"The Columbia University Department of Public Safety and its members are proud to contribute to sustainability efforts. We will support sustainability by continuing to reduce our carbon footprint while keeping our community safe," said Gerald Lewis Jr., Vice President of Public Safety.
As outlined in Plan 2030, the University aims to reduce its greenhouse gas emissions to net zero by 2050 following a downward trajectory consistent with the Science-Based Target (SBT) principles. Annual reduction in absolute emissions expressed as a percent of 2019 emissions:
2025 target: 15%
2030 target: 42%
2035 target: 63%
2050 target: 100%; net zero emission goal achieved
Public Safety's move towards electric and hybrid vehicles will help meet Columbia's SBTs through a gradual reduction in emissions, tracking toward an overall commitment of net zero. By transiting fleet vehicles to more fuel-efficient vehicles and purchasing cutting-edge technology, the University is investing in the electric vehicle industry and moving toward achieving its sustainability goals while ensuring the safety and security of its community.