Fall 2023 Bicycle Interest Group Newsletter
Bicycle Interest Group Newsletter: Fall 2023
Dear Columbia Bicycle Interest Group,  
As we enter a new semester, we write to share with you information about upcoming bicycle-friendly events, stories, and news both from the University and around NYC that encourage bicycling as a healthy and sustainable travel option for the Columbia community.
Events
Ride Your Bike to Campus Days – Sept. 6, 14, and 21, 2023
Mark your calendar for Public Safety's Ride Your Bike to Campus Days on the Morningside, Manhattanville, and Medical Center campuses! At the events, you can meet other cyclists, receive free bicycle registrations, bike tune-ups, and more. You can also stop by the Sustainable Columbia table to learn more about biking at Columbia. Ride your bike to campus and get involved on these dates and locations:
Morningside Campus: 10:00am-3:00pm; Wednesday, Sept. 6, College Walk/Sundial
Medical Center Campus: 10:00am-3:00pm; Thursday, Sept. 14, in front of 701 West 168th Street / Ft. Washington Ave.
Medical Center Campus: 10:00am-3:00pm; Thursday, Sept. 21, in front of Lenfest Square, 615 West 129th Street
Columbia News
E-bike commuter from Closter, NJ wishes he started e-bike commuting sooner
Raju Tomer, Associate Professor, Department of Biological Sciences, tells of his new 15-mile, electric-bike commute from Closter, New Jersey. Having tried driving alone, then Columbia's Park and Ride service, Raju only wishes he made the switch to e-bike sooner. Read his inspiring story and scroll through his fabulous commute photos by visiting Columbia's Commute Stories webpage.
Do you have an inspiring commute for the Commute Stories webpage? Email the Office of Sustainability at [email protected]. Selected stories will receive 20 Flex dollars on their CUID.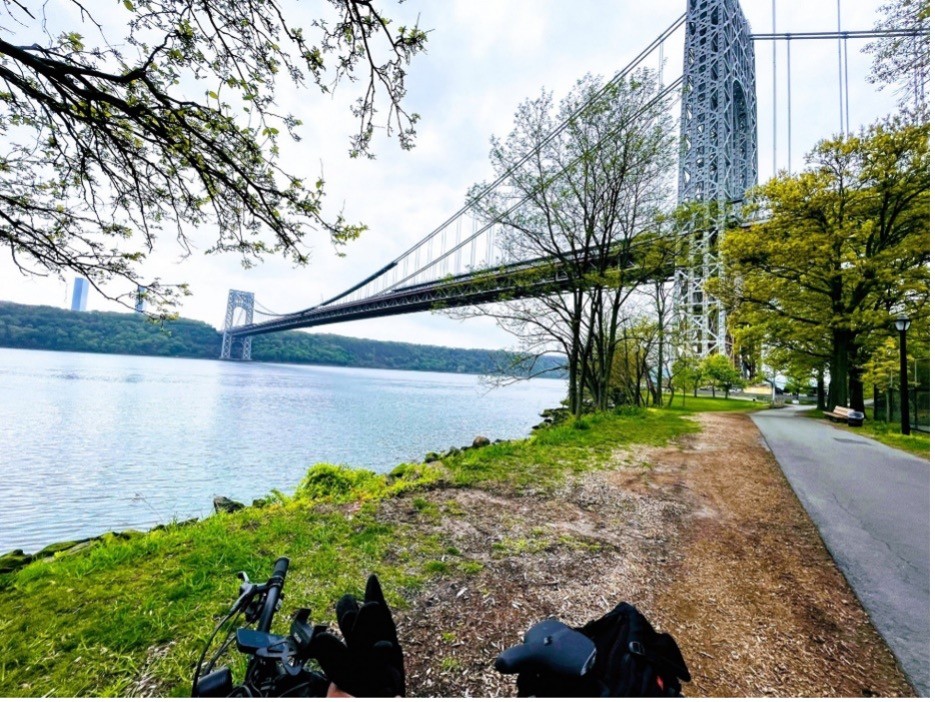 Add your name to the Columbia e-mobility database
Columbia is looking into ways to support the use of electric mobility devices while ensuring the safety of the Columbia community. If you use an e-mobility device, please add your name to the e-mobility database so we can contact you for parking and charging planning purposes, as well as disseminate related information.
Abandoned bikes cleared out of Morningside campus's bike parking enclosures
Over the summer, per Columbia policy, abandoned bikes were cut from Morningside campus bike parking enclosures. This is to ensure the efficient use of Columbia's campuses and the upkeep of the University. Bikes not claimed by their owners will be donated to a non-profit.
Read Columbia's policy for the use of commuter bicycle parking enclosures on the Morningside Heights campus.
Micromobility updates around the city
NYC DOT takes new steps to expand bike infrastructure and encourage safe operation of e-bikes as overall bike ridership reaches all-time high
Earlier this year, the city announced new steps the NYC Department of Transportation (DOT) is taking to expand bike infrastructure, encourage biking, and improve safety. One such step is the DOT's plan to "harden" 10 miles of existing bikes lanes. "Hardening" means transitioning bike lanes that are protected by flexible delineator poles to cement barriers that will better protect cyclists. Also announced was a map that identifies bike network expansion plans, potential corridors, 2023 hardening projects, new protected bike lanes, and the newly announced Harlem River Greenway.
See the map and read more here.
7-mile-long Harlem River Greenway in The Bronx set to provide a safer and more pleasurable journey between Columbia, Bronx and Westchester
Columbia affiliates living in Westchester and the Bronx can anticipate a safer, more car-free, and pleasurable bike route to Columbia in the future. As part of NYC's effort to open up its waterfront and provide better connectivity for cycling and walking, a new greenway that includes a continuous bike path is being planned that will connect Van Cortland Park in northwestern Bronx to Randall's Island in southern Bronx along the Harlem River. Additionally, this new greenway will connect to Westchester's South County Trail and Croton Aqueduct Trail (also known as Empire State Trail and Putnam Greenway) at Van Cortland Park making it possible to cycle from the far reaches of Westchester and beyond into new areas of NYC, and near Columbia, without riding in traffic. This new amenity will provide a strong incentive for car-centric Westchester commuters to consider giving up their car commute to try biking or e-biking.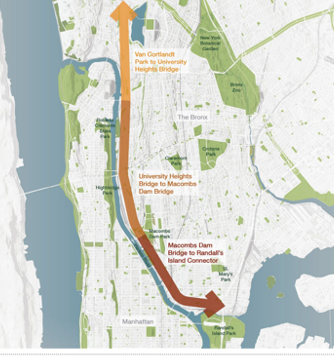 10th Avenue in Hell's Kitchen set receive a protected bike lane, to be NYC's widest!
A new 10-foot-wide bike lane will run northbound on 10th Avenue from West 38th Street and West 52th Street through Hell's Kitchen, removing a lane of traffic. The improvements will include protected intersections, known as "offset crossings," at West 39th, West 43rd, West 45th, West 47th, and West 49th streets. Looking ahead, NYC DOT plans to implement another phase of this project, from West 14th Street to West 38th Street with a similar design in 2024. Read more here.
View NYCDOT's current bike route projects.
The Infrastructure Investment & Jobs Act will improve the city's transportation network
Passed in 2021, The Infrastructure Investment & Jobs Act will allow for investment in the nation's infrastructure, including funding that will go towards New York City's transportation network including major bridge projects, Vision Zero street improvements, freight and rail, greenways and more. Learn more from NYC DOT here.
Safe bike education
Bike NY offers free bicycle educations classes for adults and youth in all five boroughs.
Columbia Office of Work/Life Well-Being Program
Join the upcoming challenge! Columbia vs. NYU Uptown: The Uptown/Downtown Challenge
The Office of Work/Life is hosting a step challenge this semester and you are invited to join! This semester we are facing off with NYU to see which university will achieve the highest average step count by the challenge end. Columbia University employees will also be competing for prizes in various categories. Register here.
Stay tuned for more Work/Life well-being programs and workshops this fall by joining the well-being listserv!
More commute and travel resources:
For additional information about your travel options, including important information for being a cyclist at Columbia, visit Columbia's Transportation website. On behalf of the Sustainable Columbia Working Group for Transportation, thank you for being enthusiastic about bicycling and active travel.
Be well,
Daniel Allalemdjian, Director, Sustainability & Transportation, Office of Sustainability
Daniela Elazari, Director of Well-Being, Office of Work/Life
These initiatives contribute to the goals outlined in Columbia's Sustainability Plan.