Your New Commute Choices Will Have an Impact
The information below is provided to support your decision-making and to encourage Columbia affiliates to make environmentally responsible decisions in this time of change.
September 07, 2021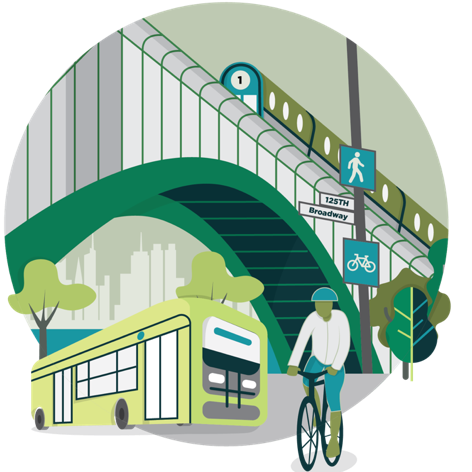 Columbia encourages sustainable commuting decisions from its affiliates to reduce the University's commuter emissions by 21% by 2025, and to zero by 2050.
Columbia asks affiliates to make thoughtful and environmentally responsible decisions. Please consider transportation-related emissions and the climate crisis when choosing a commute mode and travel frequency for your return-to-campus plans.
In April 2021, Columbia released its second Sustainability Plan, which states new and aggressive greenhouse gas (GHG) emission reduction targets for the University, including reduction targets for commute emissions from affiliates' travel between home and campus. In this plan, the University has prioritized the adoption of flexible working arrangements to accelerate progress toward the stated goals.
Pre-pandemic, University survey data indicated that about 10% of Columbia's total emissions are from commuter travel. Since then, the University has set aggressive targets to reduce these emissions by 21% from 2019 levels by 2025 and to zero by 2050. Achieving these targets will require significant individual behavior change from many Columbia affiliates. 
In 2019, University data showed that only about 13% of Columbia employees arrive to campus by car, but they are responsible for close to 33% of total commute emissions. To achieve Columbia's first interim target of a 21% reduction, the University would require a change in commute behavior from about 50% of Columbia affiliates who arrive by car to change their commute. These commuters might switch to an electric vehicle, adopt a transit or bike commute, or consider a hybrid work schedule if permitted by their department's policies. If you are already a public transit user, consider taking the next step to reduce your impact by taking up a biking or walking commute for part of your trip or on alternate days. If your department is following hybrid work schedules, then your designated schedule will  certainly help you, too.  
The pie chart below shows the source of Columbia's commute emissions for 2019. This includes all commuting affiliates on all of Columbia's campuses.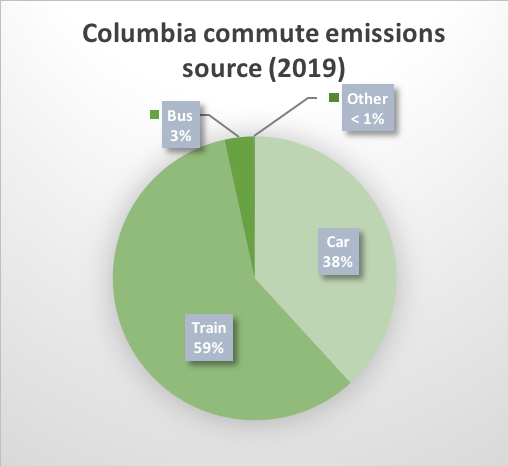 Consider the following to make the switch to a cleaner commute:
Change up or trade in your car commute.
Information and ideas for existing transit riders to move one more step in a sustainable direction, such as by taking bike trips instead of train or bus trips:
Integrate biking into your commute. Here are some news, updates, and information for cycling:
Explore a Flexible Work Arrangement
The best trip is the one not taken. It is possible that you or some of your colleagues have been working remotely, at least part-time, due to COVID-19 restrictions. If your School/Unit plans to maintain a hybrid work schedule for its staff, this could be a great way to support the University's Sustainability Plan and its commitment to reduce greenhouse gas emissions from commute travel and peak-hour congestion. In addition to reducing emissions, a hybrid work schedule can save money, time, and stress from commuting. Learn more about resources for remote working.
Finally, view this list of incentives to encourage you to choose a sustainable commute, and if you're already a sustainable commuter, let people know by becoming a Crown Commuter.