Introduction
Since the release of Columbia's first sustainability plan in 2017, climate science has only continued to present a more compelling case that urgent action is required to address the threats emerging from global climate change. President Biden has made addressing climate change one of the four pillars of his agenda. Now is the time to take bold action. Given the complex and far-reaching threats that climate change poses – threats that disproportionately impact the most vulnerable in society – every individual has a role to play; only if we act together can we bring about great change.
Building on the goals achieved in its first sustainability plan, Columbia has sought guidance from the Science Based Target initiative (SBTi) and the United Nations Environment Programme (UNEP) as well as its own Earth Institute scientists, faculty, and students, to set targets to ensure Columbia does its part as a leader in sustainability. 
The directive of the plan continues to be that Columbia must model sustainable values and practices within its culture – the way it designs, constructs, operates, educates, and manages resources.
The goals outlined in this plan will require a significant commitment from all stakeholders at the University – students, faculty, staff, and alumni – to ensure that Columbia not only achieves its goals but also continues the shift toward a more sustainable campus.
Sustainability Planning at Columbia
In 2016, President Bollinger formally endorsed a set of Sustainability Principles to establish a high-level vision for sustainability that spans Columbia's campus communities in New York and across the globe. The principles were co-developed between leaders in University Facilities and Operations, Environmental Stewardship, and Earth Institute faculty. The Sustainability Principles highlight three key pillars, to which each campus of the University has a commitment to adhere through targeted policies, commitments, and standard practices, as well as individual daily actions. As part of this commitment, Columbia commits and strives to:
advance Columbia's core educational, research, and outreach missions to demonstrate its sustainability leadership around the world;
plan, develop, implement, and measure strategic sustainability initiatives; and
foster a culture of sustainability
These principles apply University-wide — not only to the Morningside campus, but also to CUIMC, LDEO, Nevis Labs, Manhattanville, Baker Field Athletics Complex, the many residential properties owned by the University, and other facilities such as the Columbia Global Centers.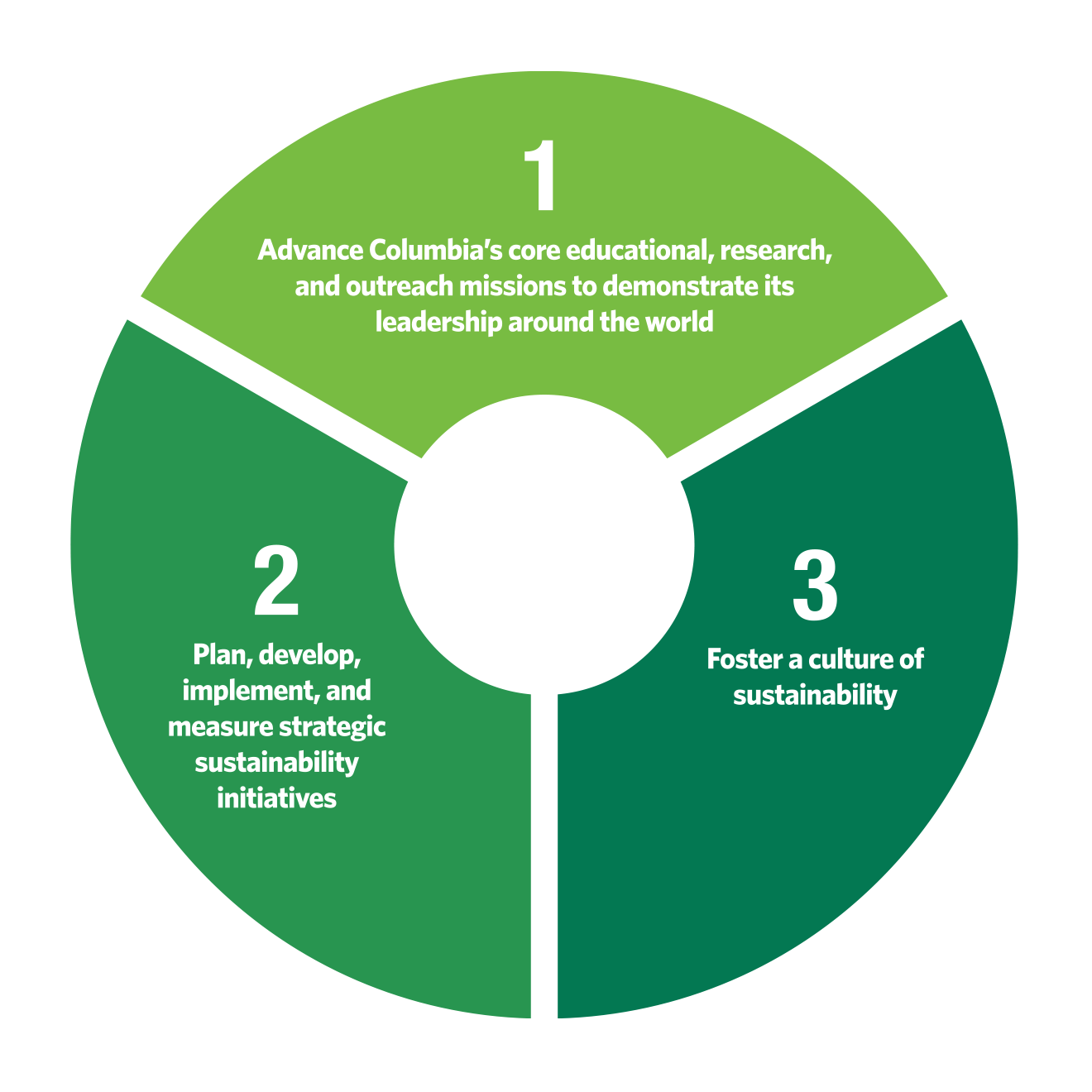 Plan 2030 builds on efforts that have come before it. Prior to Columbia's first sustainability plan, campus sustainability efforts largely operated on a project-by-project basis, affecting local change yet not centralized, making it difficult to recognize their collective impact. In accordance with the second sustainability principle, the University published its first sustainability plan in 2017. This plan spanned three years, 2017 through 2020, and covered three main operational areas: 
Greenhouse gas emissions and energy use reduction
Transportation
Waste reduction
A progress report was published annually to report on plan goals set. The first sustainability plan centralized efforts in three key areas under a higher-level strategic vision with clear reporting expectations, focusing mostly on operations.

Created in 2016 to centralize reporting and decision making to build the first sustainability plan, the Senior Sustainability Advisory Committee (SSAC) is the governing body that reviews, advises, and approves the University sustainability plan goals. This body centralizes the sustainability conversation between academic and administrative leaders on campus. The group is co-chaired by David Greenberg, Executive Vice President of Facilities and Operations and Michael Gerrard, Director of the Sabin Center for Climate Change Law.
To curate proposed strategies for Plan 2030 five working groups were formed, bringing together representatives from all campuses including faculty, staff, and students: Campus Energy, Sustainable Events, Responsible Design and Construction, Sustainable Transportation, and Retail Tenant Alignment.
Each group had one or two leaders, with support from the Environmental Stewardship office. The teams worked for six months to develop strategies to meet their goals and delivered their work proposals to the SSAC in April, 2020. 
The approved content developed by these five working groups is incorporated into six commitment areas established in the plan. Over the coming years, the working groups will continue to work together to achieve these strategies and will share progress along the way. Click here to read more about working group membership and chairs.
Plan 2030 is a ten-year plan that outlines goals, grounded in science, for Columbia's New York campuses. In addition to formalizing the University's commitment to achieve net zero emissions by 2050 or sooner, it also roots the University sustainability endeavors in a commitment to environmental justice and transparency. The plan takes a holistic look at climate action and environmental sustainability through a systems lens for all campuses.