Columbia is Once Again Recognized as a Top Performer in AASHE's Sustainable Campus Index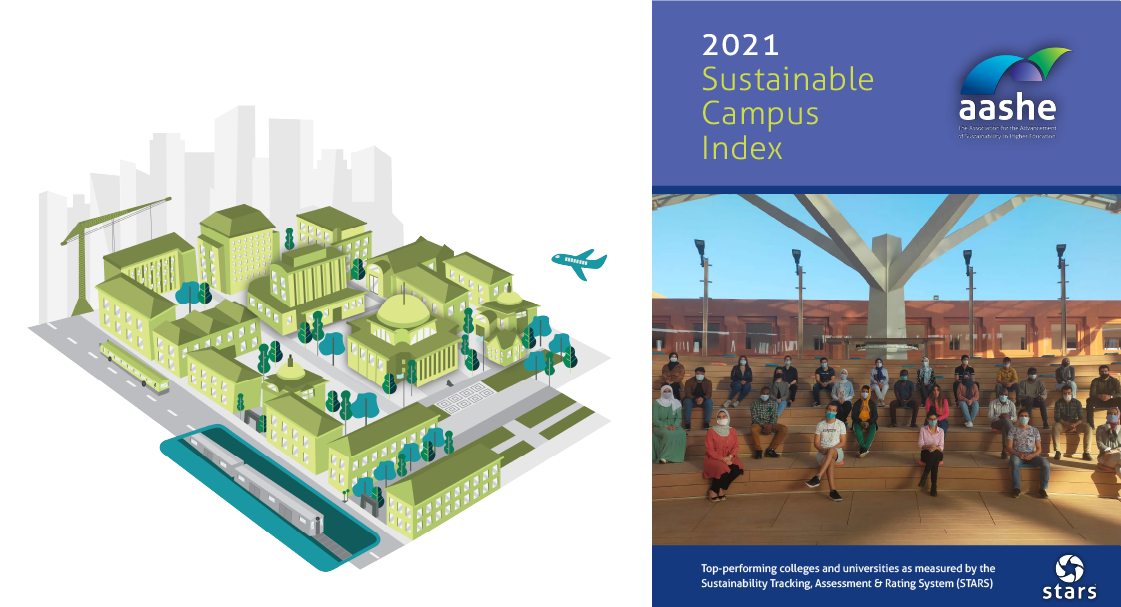 Columbia University has been recognized in the 2021 Sustainable Campus Index, achieving second place in Transportation and coming in sixth for Food & Dining. Columbia has placed in the top ten in these categories, as well as earning an overall Gold rating, for the past six years. The 2021 Sustainable Campus Index, a publication of the Association for the Advancement of Sustainability in Higher Education (AASHE), highlights top-performing colleges and universities overall and in 17 impact areas, as measured by the Sustainability Tracking, Assessment & Rating System (STARS). 
In the area of Transportation, the University ranked first for United States universities and second overall by just one percent, behind Ryerson University in Toronto. Columbia won first place in 2019 as well as the "Best Overall Program" title from the Association for Commuter Transportation (ACT) at its annual international conference in that year. The university consistently pulls in top scores for its transportation efforts due to the reduction of single-occupancy vehicle (SOV) commutes year over year through commuter programs like shuttle buses, carpool incentives, and more. Adding six battery-electric buses to the intercampus shuttle fleet in 2017 also helped Columbia reduce its transportation emissions by 72 percent over the previous diesel fleet. 
In April of 2021, Columbia University released a new ten-year sustainability plan, Plan 2030, which will act as a roadmap for the university to reach net zero greenhouse gas (GHG) emissions by 2050. As part of Plan 2030, Columbia will reduce emissions from on-campus fleet vehicles to zero by 2037 among other goals. 
"It's an honor to be recognized again by AASHE for our accomplishments in campus sustainability," said Jessica Prata, Associate Vice President for the Office of Sustainability at Columbia University. "With the release of Plan 2030 and the commitment to reach net zero emissions, Columbia is only going to increase our sustainability efforts going forward." 
Columbia again received the sixth place spot in the area of Food & Dining, ranking third among U.S. universities. In addition to the title of "Number 1 College for Food in America," Columbia Dining is also a Level 1 Green Restaurant Certified establishment meeting standards across water efficiency, waste reduction and recycling, sustainable goods, energy, reusable and disposable items, and chemical/pollution reduction. Sustainability drives Columbia Dining's purchasing decisions, menu development, and physical operations. By ordering from local businesses and farms, providing a wide range of daily vegan and vegetarian options, and prioritizing recycling and reuse in its locations across campus, Columbia Dining has proven itself a leader in the sustainable food arena. 
"We're always looking for new and innovative ways to reduce our environmental footprint while providing best-in-class service to our Columbia community," said Scott Wright, Vice President of Campus Services. "Now is the time for every department at Columbia to integrate sustainability into their work." 
About Sustainable Columbia 
In its first campus-wide sustainability plan released in 2017, Columbia pledged to cut greenhouse gas emissions by 35 percent in the next three years – a goal that the university exceeded in 2018. Building on the goals achieved in the first plan, Columbia developed Plan 2030 in conjunction with its own Earth Institute scientists and faculty, using guidance from the Science Based Target initiative (SBTi) and the United Nations Environment Programme (UNEP) to establish principles and measurable targets that will help ensure Columbia will achieve this goal. Each year, Columbia publishes a Sustainable Columbia Annual Progress Report showcasing the important work of many dedicated Columbians to meet the university's sustainability goals. The university also recently joined Race to Zero, a global initiative for a zero carbon world. Columbia's commitment to reach net zero by 2050 or sooner and its new sustainability plan qualify it for participation in this global challenge. 
About STARS 
STARS is a transparent, self-reporting framework developed by AASHE for colleges and universities to measure their sustainability performance. With over 900 participating institutions, STARS is the leading tool for measuring higher education sustainability performance. 164 reports were submitted in the most recent calendar year, resulting in a 27 percent increase over the previous year and a fifth consecutive year of growth. All reports are publicly accessible on the STARS website. 
About AASHE 
AASHE empowers higher education administrators, faculty, staff and students to be effective change agents and drivers of sustainability innovation. AASHE enables members to translate information into action by offering essential resources and professional development to a diverse, engaged community of sustainability leaders. We work with and for higher education to ensure that our world's future leaders are motivated and equipped to solve sustainability challenges. For more information, visit www.aashe.org. Follow AASHE on Facebook and Twitter.