Fall 2021 Bicycle Interest Group Newsletter
Dear Columbia Bicycle Interest Group,
For those who are resuming commuting as the semester begins, welcome back to campus! We also welcome the many new members of this listserv who are new to Columbia and perhaps new to cycling. We're pleased you are interested in cycling as it's recognized as a healthy and sustainable carbon-free travel option. This newsletter contains updates, news items, links and reminders we've selected that are relevant for bike travel within NYC as well as to and from Columbia. We hope you find this useful, and that you enjoy the Fall semester.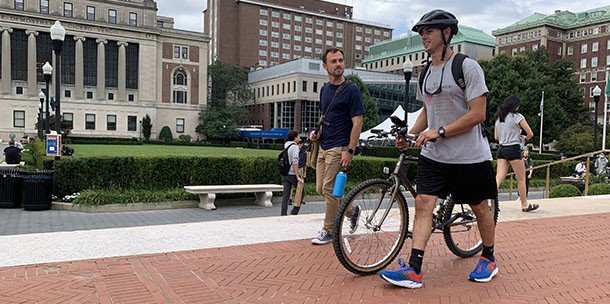 Events
Ride Your Bike to Campus Days: 
Mark your calendar for Public Safety's Ride Your Bike to Campus Days on the Morningside, Manhattanville and Medical Center campuses! At the events, you can meet other cyclists, receive free bicycle registrations, bike tune-ups, and more. You can also stop by the Sustainable Columbia table to learn more about biking at Columbia. Ride your bike to campus and get involved on these dates and locations:

Manhattanville Campus: 10:00am-3:00pm; Monday, September 13, 2021, Lenfest Square, 615 West 129th Street 

Medical Center Campus: 10:00am-3:00pm; Friday, September 17, 2021, in front of 701 West 168th Street and Ft. Washington Ave.

Morningside Campus: 10:00am-3:00pm; Tuesday, September 21, 2021, College Walk Sundial 
 
Your Velocity: 
Participate in Columbia's Your Velocity walk, run or ride event to help end cancer. Due to the pandemic and not being able to gather in large groups, participants have until October 3rd to complete their activity.
 
Well-Being Listserv: 
Stay tuned for additional physical activity and other well-being events this fall by joining the Office of Work/Life well-being listserv.
Bike Education
New to cycling in NYC, or just want to brush up on your skills? Review the resources for learning how to cycle safely on the Columbia Transportation website.
Columbia News
Bikes now permitted on Columbia's Commuter shuttles. Consider if combining your bike commute with the Commuter Shuttle is right for you. Bikes must go in the luggage compartment of the bus. Columbia Transportation and Academy Bus are not responsible for damaged or lost items in the luggage compartment.
Commuter bike parking enclosure will be audited this semester. Per University policy, and to maintain the efficient use of space on Columbia property, Commuter Bike Parking Enclosures will be audited for stored and abandoned bikes this semester. Users of the enclosures will be notified of key dates in the coming weeks, and stored bikes will be tagged for removal thereafter.
Read the news story from Columbia's News page about "Everything You Need to Know to Bike to and Get Around Columbia's Campuses"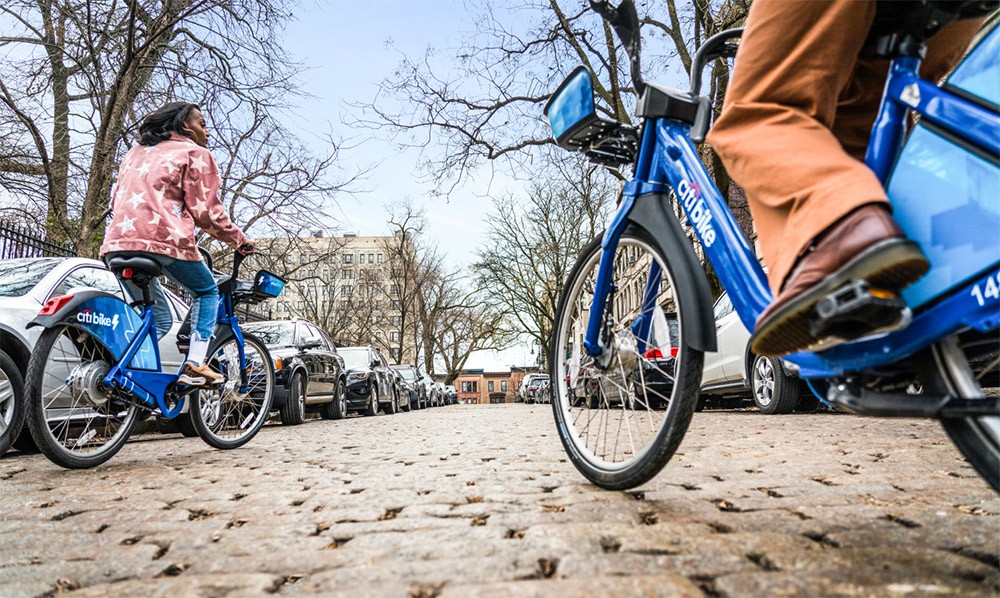 Micro-mobility updates from NYC's Department of Transportation (NYCDOT):
You may be eligible to save 50% on a Citi Bike annual membership! To celebrate its expansion, Citi Bike is offering 50% off an annual membership for eligible New Yorkers. See if you're eligible.
NYC announces record number of protected bike lanes planned for 2021, including the locations of the proposed "Bike Boulevards" in each borough. Click here to learn where they'll be installed.
It's now easier to bring your bike on Long Island Railroad (LIRR) and Metro North. Starting September 7, 2021, you will no longer be required to show a bike permit when boarding Metro-North and LIRR trains with your full-sized bicycle.
NYC's shared e-scooter pilot has launched with up to 3,000 Bird, Lime and Veo e-scooters available in the East Bronx. Read more.
Citi Bike has its best biking week ever! Read more.
NYCDOT begins installation of first of 10,000 new bike racks. Read more.
Other Information and Reminders:
View bike parking areas on or near campus, including commuter bike parking enclosures, on Columbia Transportation's bike webpage.

View NYCDOT's official bike map, updated annually.
More Commute and Travel Resources:
For additional information about your travel options, including important information for being a cyclist at Columbia, visit Columbia's Transportation website. On behalf of the Sustainable Columbia Working Group for Transportation, thank you for being enthusiastic about bicycling and active travel.

Be well,

Daniel Allalemdjian
Director, Transportation Demand Management
Office of Sustainability

Daniela Elazari
Director of Well-Being
Office of Work/Life

These initiatives contribute to the goals outlined in Columbia's Sustainability Plan.

You are receiving this email because you have signed up for Columbia Bicycle Interest Group or selected to receive bike news when you signed up to use one of Columbia's commuter bicycle parking enclosures. We encourage you to pass along this information to any colleagues who might be interested.