Fall 2022 Bicycle Interest Group Newsletter
Dear Columbia Bicycle Interest Group,
As the new semester begins, we take this opportunity to share information on University and city-wide bike news as well as upcoming bicycle-friendly activities at the University. These events encourage safe bicycling as a healthy and sustainable travel option for the Columbia community.
Enjoy the rest of the semester and hopefully we'll see you at the upcoming Bike to Campus Days.
Events
Ride Your Bike to Campus Days – Sept 7, 9 & 14, 2022
Mark your calendar for Public Safety's Ride Your Bike to Campus Days on the Morningside, Manhattanville, and Medical Center campuses! At the events, you can meet other cyclists, receive free bicycle registrations, bike tune-ups, and more. You can also stop by the Sustainable Columbia table to learn more about biking at Columbia. Ride your bike to campus and get involved on these dates and locations:
Morningside Campus: 10:00 a.m. - 3:00 p.m. Sept. 7, Low Plaza
Medical Center Campus: 10:00 a.m. - 3:00 p.m. Sept. 9, Haven Plaza, between Fort Washington and 169th Street
Manhattanville: 10:00 a.m. - 3:00 p.m. Sept. 14, Lenfest Square, 615 West 129th Street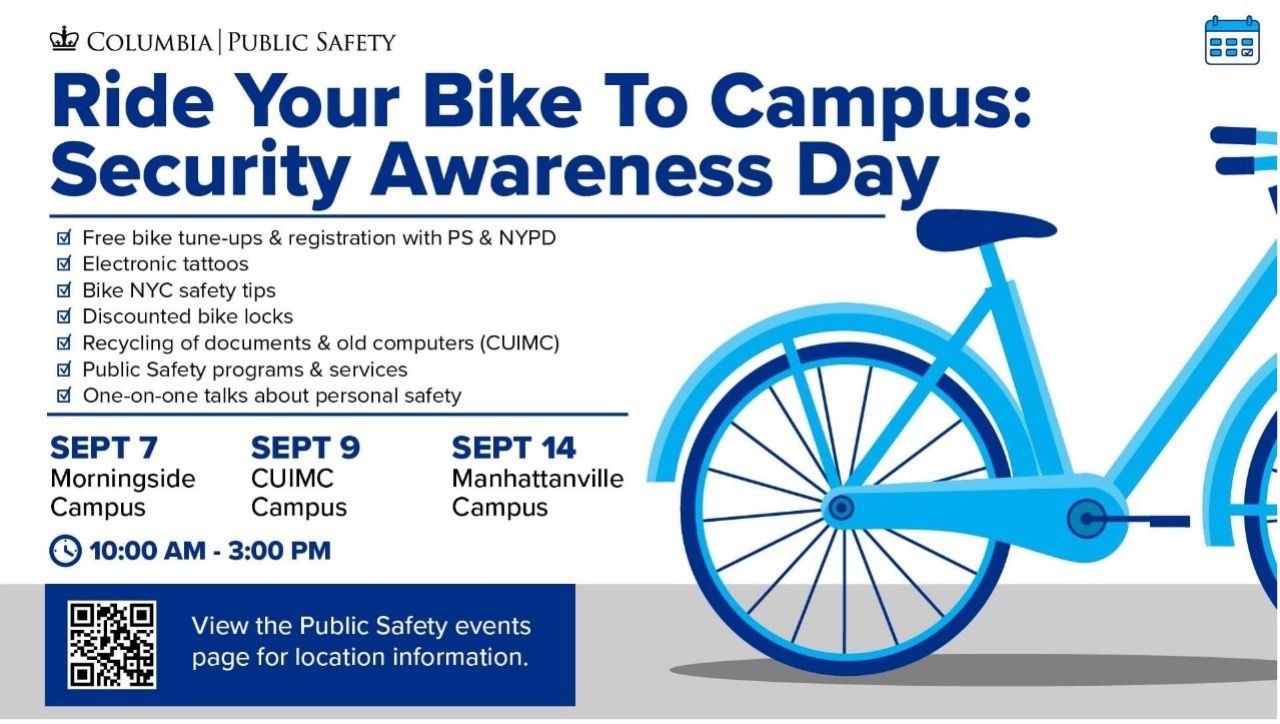 Columbia News
Bike parking added to Morningside Campus
Over the summer, bike parking bollards were added to Morningside Campus areas outside Schapiro, Pupin, and Wallach increasing Morningside's bike parking by 24 spaces. These new spaces come as the upper and lower areas of campus were audited for possible locations that are in view of campus security cameras and fit within campus operations. View bike parking spaces at Columbia.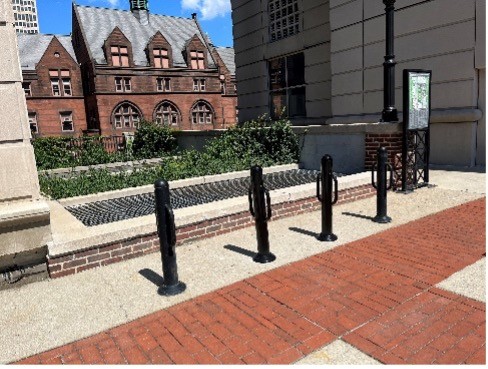 Abandoned bikes cleared out of Morningside campus's Bike Parking Enclosures
Earlier this year, bikes suspected of being abandoned in the Morningside Campus bike enclosures were tagged with a notice for removal. After a 90-day period, any unclaimed bikes were cut and removed from the bike enclosures. Efforts were made to contact the owners and unclaimed bikes were donated to Recycle a Bicycle. These efforts are important in order for the efficient use of Columbia space and to enable more cyclists to find a convenient place to secure their bike. Audits for abandoned bikes in the Morningside Campus enclosures occur annually.
Read Columbia's policy for the use of commuter bicycle parking enclosures on the Morningside Heights campus.
Columbia Public Safety offers personal safety awareness tips for various situations
Learn more on the Public Safety website.
Micro-mobility Updates
Major Expansion of Greenway Network
This month, the NYC Mayor announced the city has received a federal grant to plan for a major expansion of the greenway network across the five boroughs. The plan includes filling gaps in the Manhattan Waterfront Greenway in Inwood, Harlem, East Harlem, and East Midtown. Greenways provide long stretches of car-free routes that are useful for getting places by bike or on foot, as well as for other recreational activities. Read the announcement.
Try out Citi Bike's new generation of electric bikes. Plus, Lyft and Grubhub perks for Citi Bike members
Citi Bike is NYC's bike sharing system, which means you don't need to take on the expense and hassle of owning a bike in NYC. With Citi Bike, you don't have to worry about theft or where to park. It's a great travel option for making short-distance trips and accessing places that are tough to get to on the subway. Just this year, Citi Bike introduced their next generation of electric bikes to the system. These new e-bikes make starting from a stop much easier, as well as providing better lighting, reflective paint, a bigger tray, a stronger motor, and 60 miles of exhilarating, effortless cycling between charges. More and more protected bike lanes are being set up all over NYC, making biking increasingly safer and more enjoyable. The electric bikes make hill climbs between Columbia's campuses a breeze. Join the Lyft Pink All Access membership plan for $16.58 per month, which gives you free 45-min classic bike rides, member discounts on e-bikes and scooters in participating U.S. cities, and other perks and discounts for Lyft and Grubhub. If you don't want a membership, you can use your Lyft app to access Citi Bike and pay $3.99 per use. Learn more about these membership plans.
George Washington Bridge information, updates, and alerts for cyclists and pedestrians
More commute and travel resources:
For additional information about your travel options, including important information for being a cyclist at Columbia, visit Columbia's Transportation website. On behalf of the Sustainable Columbia Working Group for Transportation, thank you for being enthusiastic about bicycling and active travel.
Be well,

Daniel Allalemdjian
Director, Transportation Demand Management
Office of Sustainability 

Daniela Elazari
Director of Well-Being
Office of Work/Life

These initiatives contribute to the goals outlined in Columbia's Sustainability Plan.