Spring 2022 Bicycle Interest Group Newsletter
Dear Columbia Bicycle Interest Group,
Thank you for your continued interest in biking. We hope you are equally excited for the improved biking weather as we head into the warmer months. We're pleased to share with you updates related to biking in and around Columbia and New York City. We hope this information is helpful and finds you well.
Enjoy the rest of the semester and hopefully we'll see you at the upcoming Bike to Campus Days.
Events
Ride Your Bike to Campus Days – April 12, 22, & 29, 2022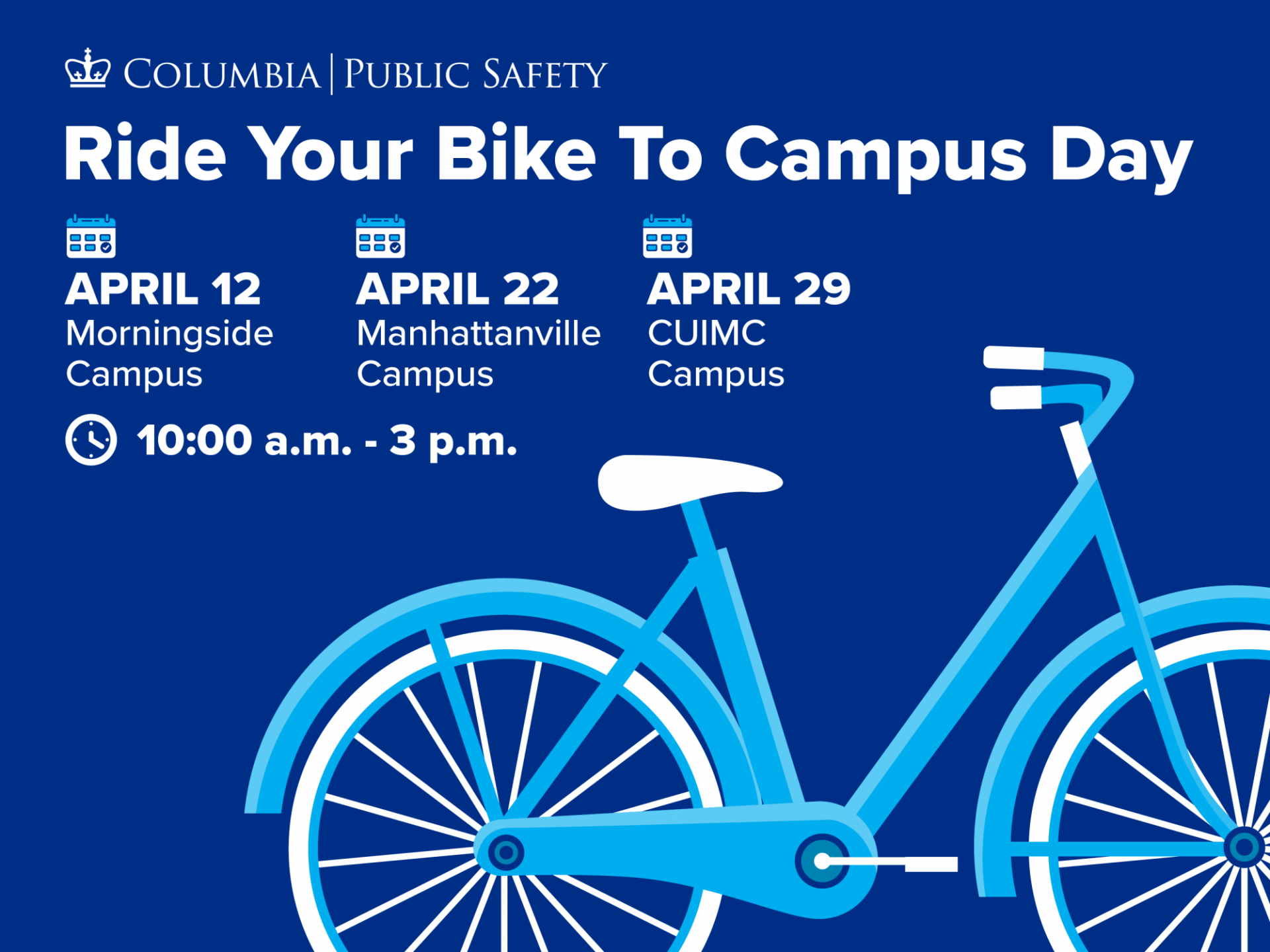 Mark your calendar for Public Safety's Ride Your Bike to Campus Days on the Morningside, Manhattanville and Medical Center campuses! At the events, you can meet other cyclists, receive free bicycle registrations, bike tune-ups, and more. You can also stop by the Sustainable Columbia table to learn more about biking at Columbia. Ride your bike to campus and get involved on these dates and locations:
Morningside Campus: 10:00 a.m. - 3:00 p.m. April 12, Low Plaza
Manhattanville: 10:00 a.m. - 3:00 p.m. April 22, Lenfest Square, 615 West 129th Street
Medical Center Campus: 10:00 a.m. - 3:00 p.m. April 29, Haven Plaza, between Fort Washington and 169th Street
Velocity: Columbia's Ride to End Cancer
Participate in Columbia's Your Velocity walk, run, or ride event to help end cancer.
Well-Being Programs
Check out upcoming well-being programs and workshops on the Office of Work/Life webpage.
Bike Education
Bike NY are offering in-person classes again.
New to cycling in NYC, or just want to brush up on your skills? Review the resources for learning how to cycle safely on the Columbia Transportation website and participate in one of Bike NY's virtual or in-person classes.
Columbia News
Over 170 new bike parking spaces added to Manhattanville campus as well as showers and changing facilities.
Manhattanville campus opened over 100 new bike parking spaces around the new Columbia Business School building entrances plus 70 indoor bike parking spaces that offer a secure and sheltered option for members of the Columbia Business School. There are also new shower and changing facilities for active commuters such as cyclists and runners.
Access to the new bike room and showers is only for Columbia Business School affiliates. Non-affiliates can consider other bike parking enclosures listed on this website.
Follow these steps to gain access to the Columbia Business School bicycle room:
Set up an appointment to get your bike registered by contacting Public Safety at 212-854-8513 or [email protected]

Take your bike to Public Safety for registration and engraving

Let the Public Safety officer know you are a CBS affiliate and would like access to the CBS bike room.

You are now set up and begin using the bike room.
Micro-mobility Updates
You can now map your Citi Bike ride on Google Maps.
Now you can enter in your destination and tap "Citi Bike" to see the most efficient route without having to wonder which Citi Bike stations to depart and end at. It even shows you the number of open docks at your destination point. Just open Google Maps on your smartphone, set your destination, tap bike, and tap Citi Bike.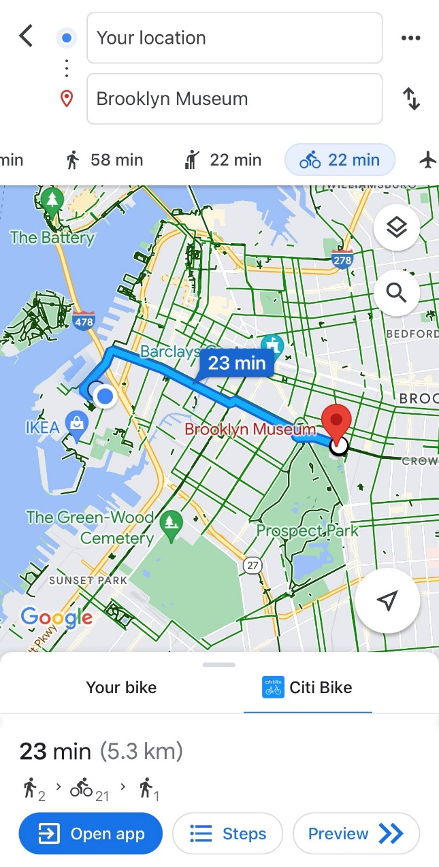 Be well,

Daniel Allalemdjian
Director, Transportation Demand Management
Office of Sustainability

Daniela Elazari
Director of Well-Being
Office of Work/Life

These initiatives contribute to the goals outlined in Columbia's Sustainability Plan.