Breakdown of Emissions Sources
This section addresses the Scope 1 (stationary combustion of fuel) and Scope 2 (purchased utilities) components of campus energy emissions. The graphic below illustrates the following key points.
Under the location-based reporting method:
Campus energy accounts for 99% of total (199,000 tons of carbon dioxide equivalent (tCO2e)) Scope 1 and Scope 2 emissions.

Other contributors (mobile combustion of fuel, and fugitive emissions from medical and research gases) account for only 2,000 tCO2e.

Emissions from purchased electricity account for 72,000 tCO2e (36%) of total campus energy emissions (197,000 tCO2e).
Under the market-based accounting method used to set science-based targets (SBT) and measure ongoing performance:
After application of renewable energy credits (RECs), there are no reported emissions from purchased electricity in 2019.
Campus energy emissions (125,000 tCO2e) result primarily from the combustion of stationary fuel (99,000 tCO2e, 79%).

The balance is principally from purchased steam with a small amount from purchased chilled water.

Stationary combustion of fuel for Morningside (MS) campus buildings connected to the "Central Loop" represents 46% campus energy emissions (57,000 of 125,000 tCO2e).
Columbia University Irving Medical Center (CUIMC) accounts for 35% of campus energy emissions.

Only 40% of CUIMC emissions results from stationary combustion of fuel.
60% relates primarily to purchased steam with small amounts from purchases of chilled water.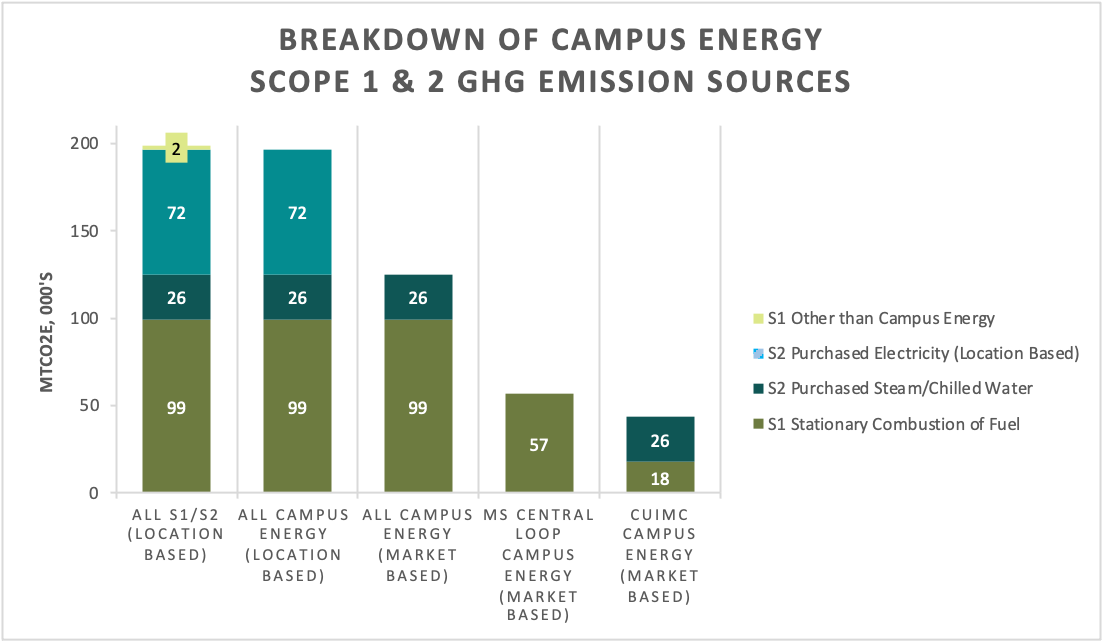 Note: the figure above does not include fugitive emissions related to refrigerants. While this source of emissions is attributable to campus energy, a comprehensive accounting has not been performed, but will be completed by the end of 2022.